Mike Babcock to coach Canadian Olympic team again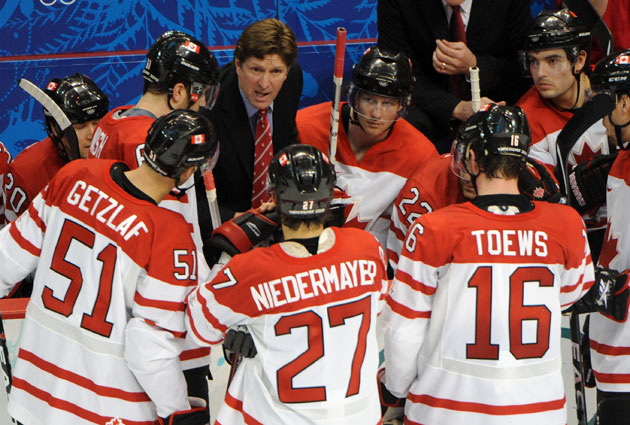 More NHL offseason: Rumors | Top 50 Free Agents | Buyout Tracker | Trades | Transactions
Mike Babcock did such a fine job coaching the Canadian team at the last Olympics in Vancouver that he's going to be called on again.
The Red Wings coach will lead Team Canada from behind the bench while Ken Hitchcock, Lindy Ruff and Claude Julien will be his assistants. The not-so-surprising revelation of Babcock as the boss was announced by Hockey Canada on Monday.
"I am extremely proud to represent my country and coach Team Canada," Babcock said in Canada's release. "To have had the opportunity to share the Olympics with family, friends and all Canadians in Vancouver was something very special. To win gold in Canada was a dream come true. In February, we will have a whole set of new challenges with a new group of players and staff. I am very excited to be working with Claude, Lindy, Ken, the management group, support staff and players to defend our Olympic gold medal."
Babcock serving as the bench boss would fall under the category of expected news. Not only does he have a history of leading the boys with the Leaf on their chests, but he is also relatively close to Canada GM Steve Yzerman from their days together in Detroit. In this case if it ain't broke, don't fix it.
"Canada's coaching staff has a great deal of international and professional experience for the challenge that awaits us in Sochi," Yzerman said. "Mike did a great job setting the foundation for our gold medal win in Vancouver, and I know that with Ken, Claude and Lindy working with him, our team will be very well prepared."
The success of the coaching staff for Canada is likely all going to come down to the success of the goaltending. Roberto Luongo and Carey Price will be among the camp invitees for Canada along with Corey Crawford, Braden Holtby and Mike Smith. The position remains the questionable link on Canada's as-of-yet formed team that you know will be stacked with talent at all of the skater positions.
USA Hockey already announced who would be behind its bench for the Olympics before the NHL's participation was even finalized. The Americans will be coached by Dan Bylsma and under the guidance of GM David Poile. February can't get here soon enough.