Coyotes' potential owners deny report of financial challenges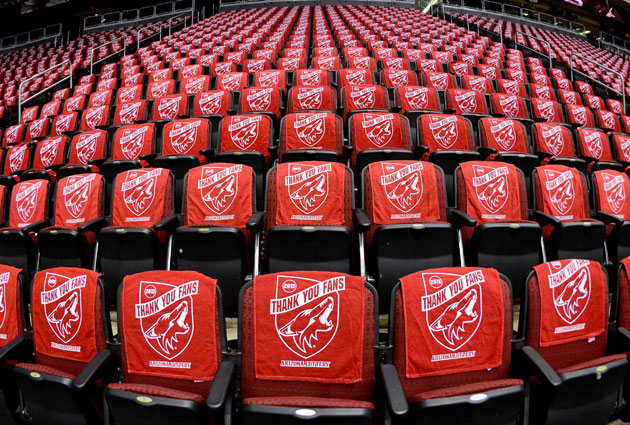 More NHL offseason: Rumors | Top 50 Free Agents | Buyout Tracker | Trades | Transactions
It almost feels like it's just one last time for old time's sake, but there are some questions about the finances of the new potential owners of the Phoenix Coyotes. Shocking, I know.
Mike Sunnucks of the Phoenix Business Journal reported on Wednesday night that some of the money Renaissance Sports and Entertainment had lined up was going to fall through. With the deadline of Mon., Aug. 5 to get the sale completed, that spelled trouble.
However it didn't take long for the report to be refuted by RSE's Daryl Jones to Sunnucks.
@mikesunx report that Ice Arizona is having financing issues is categorically wrong. #HereToStay

— Daryl Jones (@HedgeyeDJ) July 31, 2013
Craig Morgan of Fox Sports Arizona also stated there was no truth to the report and it's on track to be a completed deal by Monday. Further, the RSE group has been meeting with NHL brass this week as they await the approval from the Board of Governors and Gary Bettman told Bruce Garrioch he expects everything to be wrapped up by Monday.
As a general rule of thumb in this prolonged Coyotes odyssey I began to accept the idea that if there is smoke there is fire, something always seemed to be amiss. However it doesn't feel the same this time, there are too many flat-out denials of the report to not put one at ease that this situation is finally going to be completely resolved.
Just one more for the road, a final attempt at a plot twist in what has had as much drama as a telenovela.