Rangers reportedly not talking extensions with stars; why not?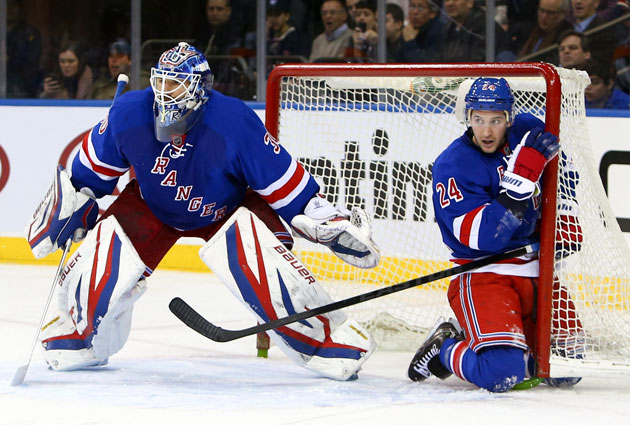 More NHL offseason: Rumors | Top 50 Free Agents | Buyout Tracker | Trades | Transactions
It has become common practice and many would say smart business to work ahead in hockey, specifically speaking of re-signing players as soon as possible. We've seen it recently with such players as Joe Pavelski, Jay Bouwmeester and Claude Giroux.
But it hasn't happened yet with the Rangers and from the sounds of things it's not gong to happen any time soon. This has Larry Brooks of the New York Post a bit miffed.
Except in New York, where the Rangers have been curiously reluctant to engage in negotiations with Henrik Lundqvist, Ryan Callahan and Dan Girardi, all of whom can go free (alternate meaning) next summer.

Understand, it's not as if negotiations with any or all of the Big Three have hit snags. Fact is, Slap Shots has been told, negotiations have yet to even begin with the franchise goaltender, the captain or the first-pair, right-side defenseman.

Why? Who knows? General manager Glen Sather's email response to Slaps Shots this week when asked about the status of negotiations was, "We will be talking."
Indeed there is still a lot of time -- nearly a full year -- for these guys to re-sign but if you can get it out of the way now, wouldn't you want to? Who wants that distraction hanging over their heads all year long anyway? Players value stability, it's why they like long-term deals so much.
The question is what's the benefit? Why would you wait around if you are Sather anyway? It seems odd to not have even begun initial conversations just to test the waters. To be honest, I do struggle to find many.
You pretty much only run the risk of the player's value going up the longer you wait, not the other way around. It seems that the majority of the best deals in hockey come on early extensions, when the value is the cheapest.
I suppose you mitigate the team's risk by waiting because what if Player X has a disastrous season or big injury? If a new contract is not in place then you can change on the fly. However that's a dangerous game to play, free agency can be very tempting for players, especially those who have never been. All you have to do is look around in the first week of July to see why the thought would excite.
Beyond that it's tougher to see the benefits. Maybe in the case of a team like the Rangers they want to have a better of idea of where they will stand with the salary cap but that's a long ways off yet as the cap in two years from now will be dictated by revenues this upcoming season.
I admit it's really hard to imagine any one of Lundqvist, Callahan or Girardi leaving Manhattan, they all three seem to be quintessential Rangers and I imagine that all three will be re-signed at some point, but at the same time you're tempting fate with every delay.