PHOTO: Graffiti in Chicago pays tribute to Blackhawks' Cup win
More NHL offseason: Rumors | Top 50 Free Agents | Buyout Tracker | Trades | Transactions
Sometimes you hear people refer to graffiti in a moralistic sense, that it's art. Street art to be more correct. Mostly it's just a euphemism for vandalism.
But this graffiti in Chicago? This is indeed art. Clearly people all over Chicagoland were in spired by the Blackhawks' second Stanley Cup in four years.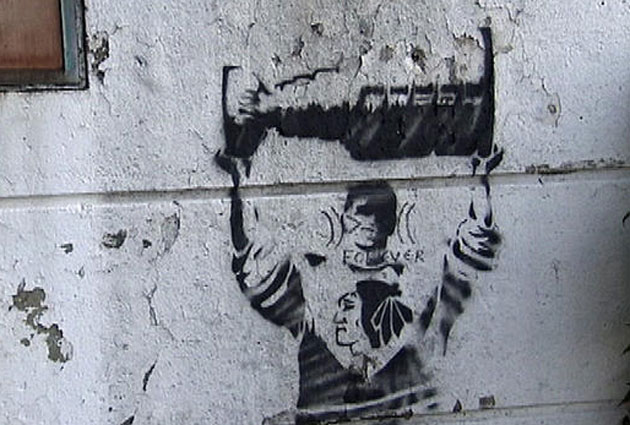 That's just fantastic. Hopefully nobody comes along to clean that one off the wall.
S/t to NBC Chicago
2013 NFL Season Over/Under














Over/Under: Mark Sanchez starting eight games
Over/Under: Peyton Manning throwing for more than 5,000 yards
Over/Under: Tom Brady throwing for more than 5,000 yards
Over/Under: Adrian Peterson rushing for more than 1,750 yards
Over/Under: Tim Tebow taking more than five snap at quarterback