Manchester Monarchs to honor LA Kings' infamous 'Burger King' jerseys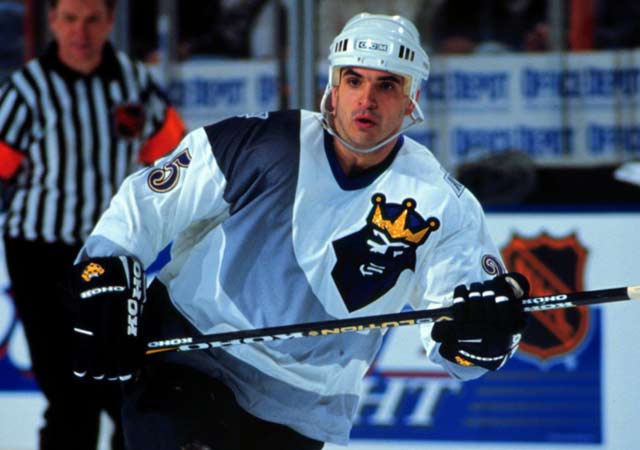 The Manchester Monarchs, American Hockey League affiliate of the Los Angeles Kings, will honor their parent club with a Kings Night next season. This normally wouldn't merit much attention if not for what the Monarchs will be wearing that night.
For the event, the team asked fans to vote on one of three jerseys formerly worn by the big club in its past. Among the options, the classic gold and purple crown jerseys the team wore from 1972 to 1980, the black and purple of 2002 to 2007 or the first alternate jersey in Kings history, worn only during the 1995-96 season and known better as the infamous "Burger King" jersey (as seen above).
Over 11,000 votes were tabulated and the Burger King jersey, named so for the king logo's resemblance to the fast food royal, won in a landslide. Bless you, people of the Internet (and probably Yahoo! Sports' Puck Daddy blog for the not-so-gentle nudge).
(Photo via @MonarchsHockey)
"Our fans have always been outspoken and passionate about our specialty jerseys so we found it fitting for them to be the ones to decide the inspirational design for Los Angeles Kings Night," said Monarchs president Darren Abbott. "Now, we will take the winning jersey design and add a Monarchs touch to it. I look forward to seeing the end result and seeing our players wearing it in January."
The Burger King jerseys are widely known among the ugliest in the history of the NHL. Even at the time, they were almost universally panned.
This of course was from around the same time that Fox introduced the glow puck and inline hockey was increasingly popular. The jerseys actually debuted on Fox on January 27, 1996, in what can only be described as the ugliest hockey game in history, as the Anaheim Ducks also wore their infamous horror-show third jerseys.
In fact, The Great One, Wayne Gretzky scored at least one of his record 894 NHL goals while wearing this atrocity in that game.
The LA Kings didn't wear these jerseys more than a few times, as recounted in an excellent tribute to one of the worst jerseys in hockey history from a few years back by Life in Hockeywood.
So, if you long for the "we're trying too hard to be hip and edgy" feel of the mid-1990s, mark your calendars for the Monarchs' Los Angeles Kings night coming in January 2014. Should be a dandy.