Salary cap could reportedly rise to $80 million by 2017-18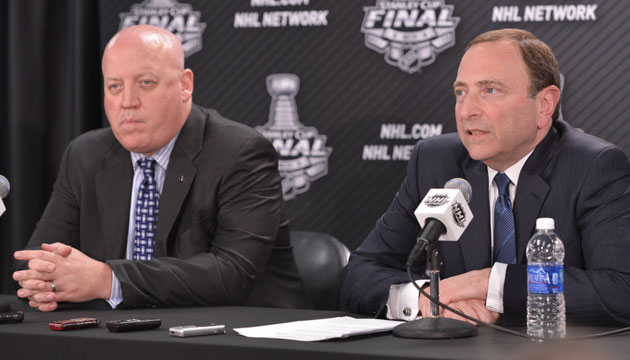 More NHL offseason: Rumors | Top 50 Free Agents | Buyout Tracker | Trades | Transactions
This summer teams in the NHL are dealing with a lack of salary cap space as it went down to $64.3 million after the (most) recent lockout. In a couple of summers there could be teams dealing with difficulties of getting to the cap floor.
That's because the salary cap is going to be going up, of course. But it could be a very rapid rise as Elliotte Friedman of CBC said on Sportsnet 590 (via The Score) that the cap could easily hit the $80 million mark by the 2017-18 season. That's four years from now.
A rise that sharp won't be an issue for some of the teams in the league, they will surely welcome it. Teams like the Rangers, Bruins, Flyers, Penguins, Kings, Maple Leafs, etc. that are living life near the cap this season. It would give them room to spend money.
Instead this would be troublesome for the less-fortunate franchises out there. If the cap is going up so is the floor and if it the cap were to rise to $80 million in four years that means the floor would be on the rise too. There is a new formula to determine the floor so it won't just be $16 million less than the cap, but will probably come in somewhere around $59 million. Considering how there are a few organizations struggling to turn a profit leaving on the current floor, that could be worrisome.
The standard response will be "what was the lockout for?" It's a good question because it was stupid and we all hated it, but this isn't too much of a reflection on the lockout. This is a sign that business is really good in the NHL. Even after the owners got a bigger piece of the HRR pie the cap is still going to rise and rather significantly. Whether it hits that $80 million mark in the next four years or not, it's easy to forecast it's going to see some healthy raises in the upcoming seasons based on the full-season projections the NHL made on this past year.
The only issue was the lack of protection for the smaller-market teams but do keep in mind that with increased revenue sharing, they will presumably be getting more money as the revenue grows across the league. It is all within propotion. Still, that doesn't mean those franchises will not have financial difficulties staying at the floor, it will be a challenge.
Of course the real winners here are the players who will still be seeing big-money deals even after they gave up percentage points of the revenue pie last winter in the lockout settlement. Well them and the NHL because if the cap is going so fast that means overall business is good and really that's a positive for everybody.