Roberto Luongo had a wild year but is he really a diva?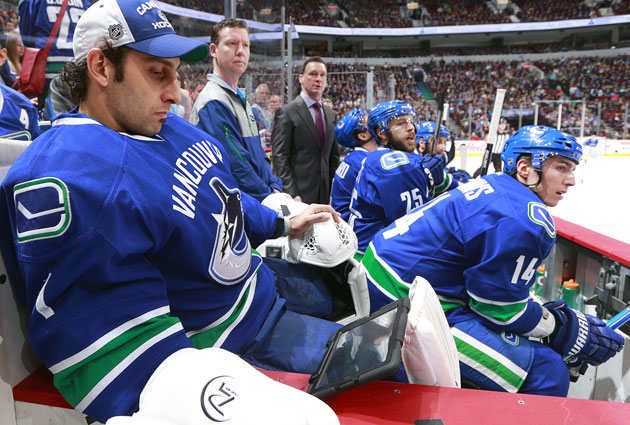 More NHL offseason: Rumors | Top 50 Free Agents | Buyout Tracker | Trades | Transactions
It has been an interesting year-plus for Roberto Luongo. The goalie asked out of Vancouver when Cory Schneider emerged as the No. 1 guy in the Canucks' net last offseason. The past year was then spent with Luongo hanging in limbo, expecting to be traded but never changing addresses.
There was the infamous moment at the end of this past season when Luongo bemonaed the fact that his contract sucks, basically meaning that it made him untradeable. Then came the recent revalation that Luongo had seriously considered voiding said contract.
Eventually it was Schneider who was traded (to the Devils), leaving Luongo behind in Vancouver to get resituated. He was quiet all summer long until speaking up about the trade just last week.
It was pretty much like a soap opera or maybe more appropriately a tabloid sensation. And what does every tablid need? A diva of course, a role that Tony Gallagher of the Province said Luongo has played perfectly but now it needs to end.
To summarize, after earning and signing a deal which would pay him a monstrous amount of money -- certainly more than any other team was willing to assume -- Luongo played well, but not so well that a friend and rival didn't come along and seemingly play better behind the same team. Attempts to move him were thwarted because the team showed him too much respect at first, then when the CBA landscape changes fully hit, couldn't move him at all. So they traded the guy they could move and somehow this completely surprised Luongo?

Further, despite the fact it gives him a better chance at winning longer term by introducing some new blood up front, he was stony silent all summer despite the fact the team dispatched the owner himself to hold his hand in Florida. Then the GM and his assistant made a pilgrimage to his Florida shrine to genuflect and beg forgiveness for their sins, yet still there was silence.

There are those who would argue that Luongo is the totally blameless, aggrieved party in this whole sorry mess. And reading into his long period of silence, maybe Luongo was buying into that type of thinking as well, and in his heart of hearts, perhaps he still is.

But enough. Cut the melodrama already.
The cover on the newspaper was just as provacative as the column and of course Luongo caught wind of it. He then had some fun with it the best way he knows how; through self-deprecating humor on Twitter.
Eat your heart out Mariah Carey....... pic.twitter.com/LF370ksmGS

— Strombone (@strombone1) August 28, 2013
Harsh criticism of Luongo? Yes it is, but I suppose Luongo isn't completely without blame either. While I'm glad he did it because it's entertaining enlightening, Luongo's honesty throughout the whole process didn't necessarily help things go smoothly, at least in hindsight.
Luongo played the victim role at times because he was a victim of sorts. While his no-trade clause and big salary didn't help, his hope to be traded was severely hampered with the new cap-recapture rule in the new CBA, otherwise known as the Luongo Rule. The contract he originally signed was now seen in a different, harsher light though little fault of his own.
As to his long silence, which seems to have been the most aggravating aspect of it all for some, it was a bit prolonged but frankly he was under no compulsion to speak. Guys are expected to talk when they get traded, not necessarily when they don't get traded. His situation was slightly different but complaining about Luongo staying quiet during the offseason is a bit much. It would have been nice if he had talked but he didn't have to, there was no obligation.
Diva? Nah. Luongo's work has a long way to go to be up there with Mariah Carey's.