Sidney Crosby tabbed favorite for Hart, Lundqvist tops for Vezina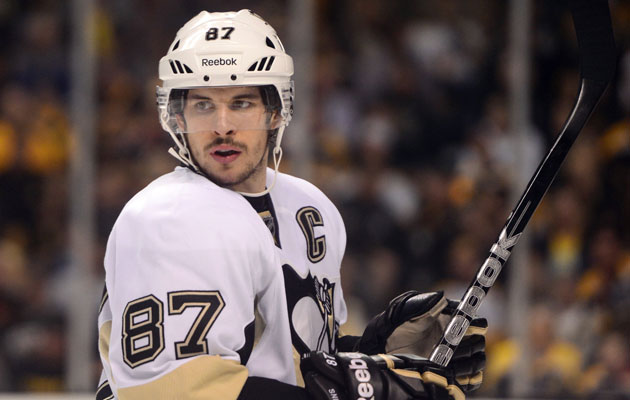 More NHL offseason: Rumors | Top 50 Free Agents | Buyout Tracker | Trades | Transactions
The preseason odds continue to roll out from Bovada. Today it's time for the awards races to be handicapped. Let's just get right to it. (Note: I'm not going to give the odds for every single player listed, you'd scroll for days.)
Hart Trophy (MVP)
Sidney Crosby (PIT) 3-1
Alexander Ovechkin (WAS) 6-1
Steven Stamkos (TB) 8-1
John Tavares (NYI) 12-1
Evgeni Malkin (PIT) 12-1
Henrik Lundqvist (NYR) 12-1
Claude Giroux (PHI) 16-1
Henrik Sedin (VAN) 16-1
Patrick Kane (CHI) 25-1
Jonathan Toews (CHI) 25-1
Eric Staal (CAR) 30-1
Taylor Hall (EDM) 30-1
Phil Kessel (TOR) 30-1
Daniel Sedin (VAN) 30-1
Ryan Getzlaf (ANA) 30-1
Anze Kopitar (LA) 30-1
Pavel Datsyuk (DET) 30-1
Jonathan Quick (LA) 30-1
Nicklas Backstrom (WAS) 30-1
I must admit, I thought Crosby would have worse (better?) odds than that, like 1/3 instead of 3/1. He would have walked away with the award last season if he weren't hit in the face with a puck.
Norris Trophy (Top Defenseman)
Erik Karlsson (OTT) 4-1
P.K. Subban (MON) 9-2
Kris Letang (PIT) 13-2
Shea Weber (NAS) 7-1
Ryan Suter (MIN) 10-1
Zdeno Chara (BOS) 10-1
Duncan Keith (CHI) 12-1
Alex Pietrangelo (STL) 12-1
Dustin Byfuglien (WPG) 15-1
Keith Yandle (PHO) 15-1
Dan Boyle (SJ) 20-1
Alexander Edler (VAN) 20-1
Mark Streit (PHI) 22-1
Brian Campbell (FLA) 25-1
Niklas Kronwall (DET) 25-1
Justin Schultz (EDM) 30-1
Kevin Shattenkirk (STL) 35-1
Dion Phaneuf (TOR) 35-1
If all of these guys are able to stay healthy, that should be an excellent race. There's quite a group of defensemen in the NHL right now, a lot of them still young.
Vezina Trophy (Top Goaltender)
Henrik Lundqvist (NYR) 4-1
Jonathan Quick (LA) 5-1
Tuukka Rask (BOS) 7-1
Pekka Rinne (NAS) 15-2
Sergei Bobrovsky (CLB) 9-1
Craig Anderson (OTT) 10-1
Jimmy Howard (DET) 12-1
Antti Niemi (SJ) 12-1
Carey Price (MON) 12-1
Roberto Luongo (VAN) 12-1
Corey Crawford (CHI) 15-1
Ryan Miller (BUF) 18-1
Mike Smith (PHO) 18-1
Braden Holtby (WAS) 20-1
Kari Lehtonen (DAL) 20-1
Cory Schneider (NJ) 25-1
What, no Tim Thomas? But really, what does Crawford have to do to get some respect for the Vezina?
There are also odds for the Art Ross (Crosby is tops at 9/4) and for the Rocket Richard (Stamkos is 5/2).