Paul Bissonnette banned 10 games for leaving bench to join altercation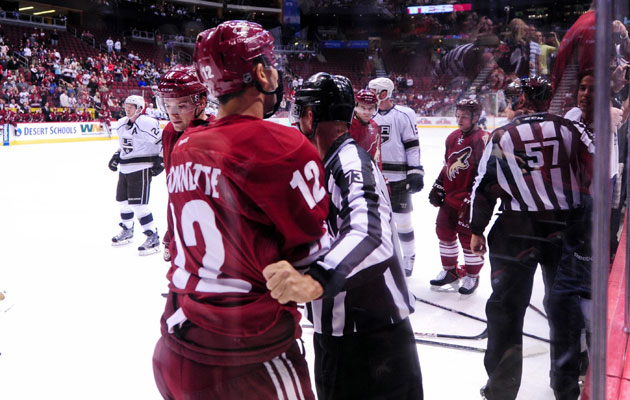 More NHL offseason: Rumors | Top 50 Free Agents | Buyout Tracker | Trades | Transactions
Phoenix Coyotes forward and tough guy Paul Bissonnette has been suspended 10 regular-season games by the NHL Department of Player Safety, a mandatory suspension for leaving the ice in Sunday night's exhibition game against the LA Kings.
Bissonnette left the bench in the first period after things got heated following an open-ice hit from the Kings' Jordan Nolan on the Coyotes' Rostislav Klesla that resulted in Klesla being taken off the ice on a stretcher and to the hospital. (See an update on Klesla here.)
It wasn't long after that Bissonnette, also known as Biz Nasty from his popular Twitter feed, was assessed the match penalty for leaving the bench for the purposes of starting an altercation, punished under Rule 70.6. There wasn't much decision to make here for the NHL, it's an automatic suspension. They just had to first make sure the call was properly made on the ice.
The suspension comes without pay for Bissonnette, which equates to $37,820.51 in salary that will go to the Players' Emergency Assistance Fund. He'll be able to make his return on Oct. 24 ... against the Kings.
As for Nolan? He will not be suspended. It was a vicious hit but after review the league determined it was indeed clean as Brendan Shanahan explained in a video.