NHL season preview: Players in line for bounceback seasons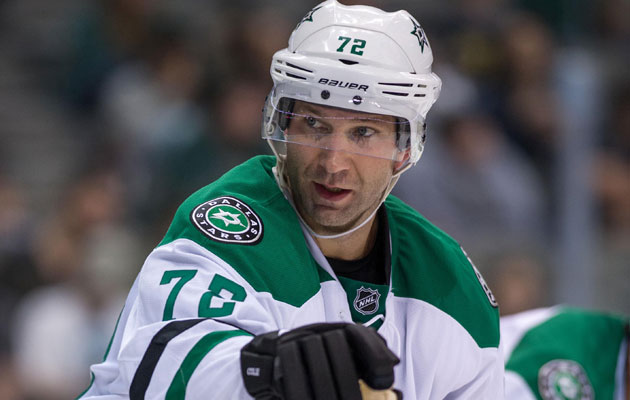 NHL previews: Atlantic Division | Metropolitan Division | Central Division | Pacific Division
When looking back at last season, it's difficult to truly render many judgments from it. The short season can throw things out of whack with a smaller sample size than we're used to. Sometimes in a full 82-game season, players just get really hot at the end and make the season as a whole look better. Take Corey Perry a few years ago when he won the Hart Trophy as an example. Not that he was having a bad season, but a torrid finish made a good season a great one.
The point is, some players who struggled last season might have been able to turn a corner had they been afforded the opportunity to play a full slate. As it was, there were some players that we've come to expect better production than they showed last season.
Put another way, these are guys in line for bounceback campaigns, for seasons that really should be better and a step back toward what we've seen from them. (Listed in no particular order.)

Mikhail Grabovski, Washington Capitals
Last season: 48 games, 9 goals, 7 assists. 82-game projection: 15 goals, 12 assists
Grabovski had a lot of things working against him last season that made his numbers look worse and a precipitated a buyout from the Maple Leafs. His role diminished to a bottom-six player and his time on ice per game dipped all the way down to 15:34 per game. So really for that role and ice time, he didn't put up terrible numbers.
But in the previous two seasons Grabovski had been a 23-plus goal scorer and topped 50 points both years. He fits a higher role than the one he had under Randy Carlyle in Toronto and he's going to get just that in Washington. That alone should help him see an uptick in his production once again in terms of his offensive ability.
Further to that, though, was the shooting percentage. It wasn't abysmally low or anything, but at 11.3 percent he was below his career average and almost three whole percentage points below his mark in 2011-12 when he had 23 goals.
Add the fact that Grabovski has a one-year contract with the Capitals to prove what he can do, all signs point toward a big rebound coming.
Last season: 47 games, 9 goals, 4 assists. 82-game projection: 16 goals, 7 assists
Based on what we saw in Cole last season, one which was split in between Montreal and Dallas, it's really hard to remember that just one season before that he was a 35-goal guy in this league. In 2011-12 his first season with the Habs, Cole had 35 goals and 26 assists to tie a career high with 61 points. It was his best individual season in the NHL.
However his start in Montreal was bad. His minutes dipped as his stats did and in just 19 games he had three goals and three assists. His shooting percentage was down to 7.3 percent in Montreal, more than five percentage points below his career average. Things just weren't going well at all with the Habs in season two and with a big contract and a team crunching the cap, he was shipped out.
Cole's time in Dallas did boost up the numbers a bit, or at least the goal-scoring numbers. Considering that has always been Cole's biggest contribution, that was encouraging to see for the Stars. He finished with six goals in 28 games for the Stars, more in line with what we expect.
So with a full year in Dallas with their added depth and skill at center to help, Cole's numbers should fall back in line with for a more reasonable 20-25-goal pace. Father time is working against him as Cole will turn 35 this season but still, he can and should post better numbers than last season.

Kyle Okposo, New York Islanders
Last season: 48 games, 4 goals, 20 assists. 82-game projection: 7 goals, 34 assists
In terms of overall points, it wasn't a terrible campaign for Okposo. The big man's 41-point pace was perhaps a little lower than what you'd like to see in his age 24 season but it's not deplorable. But four goals? That's lower than what the Isles want to see at this point.
Just two seasons ago it appeared like Okposo took a step in his game and became a better goal scorer, finishing 2011-12 with 24 goals in 79 games. To follow that up with a 7-goal pace for a full season was a massive drop. For that reason alone it's easy to forecast a return in the scoring department. He has more ability than that.
A little more important than just saying he has to be better, though, is the fact that he shot a staggeringly low shooting percentage. Putting shots on net wasn't a problem but scoring them was as he hit on just 4.0 percent of his shots. That was 5.5 percentage points below his career average (which was certainly brought down by the past season's mark) and almost 12 whole percentage points behind his shooting percentage the year before. The 15.8 percent mark he put up that season was a bit too high but there is a happy medium in there.
It seems like everybody else around Okposo took a step forward last season in their games and if they're going to continue to improve they'll need guys to hit numbers they're used to. That certainly goes for Okposo in the goal scoring and frankly, he would almost have to try to put up such a low pace again.

Ryane Clowe, New Jersey Devils
Last season: 40 games, 3 goals, 16 assists. 82-game projection: 6 goals, 33 assists
There was being snake bit and then there was what was happening to Clowe in San Jose last season before he was traded. In 28 games for the Sharks he rather famously had zero goals. Zilch. It wasn't like he wasn't shooting or playing as much, he had 65 shots as a Shark and none found the back of the net. There truly was only one way to go up from there.
Injury/concussion issues and all, Clowe did find a little revitalization when he went to the Rangers and had three goals, eight points in 12 games. That was enough, combined with his track record, for the Devils to invest heavily on Clowe.
It's really difficult to imagine Clowe can't improve on a six-goal pace this season, thus the reason why he makes the list. That said, I'm not sold we're going to see a return to the days he was scoring in the high teens, low 20s every season either. First of all he's now on the other side of 30 years of age and secondly the cast in New Jersey just isn't as strong around him. They had trouble scoring last season and while they've done some things to address that, it's hard to imagine it being much better without Ilya Kovalchuk. Some of that burden will fall on Clowe. He'll put up better numbers, but how much better?

Sean Couturier, Philadelphia Flyers
Last season: 46 games, 4 goals, 11 assists. 82-game projection: 7 goals, 20 assists
When it came to scoring, Couturier hit that fabled sophomore slump last season for the Flyers. His seven-goal pace was about half of what he did in his first year with almost two minutes less of ice time per game. Couturier's assists were up and so his point total was on the same pace, but the goal scoring was down and if we're being honest, he should score more than seven in a season with his abilities.
One thing to keep in mind with Couturier is that he's counted on for more than just scoring. He has found himself to be a more well-rounded player, a guy tasked with playing tough defensive minutes. That's all well and good but I'm sure the Flyers would like to see an uptick in scoring as well, a step in his growth as a player.
As is the common theme among players on this list, Couturier was hit by a bit of bad luck as well. His shooting percentage of 5.3 was too low, something that very likely won't be down that far again. Compared to his rookie season, that was a significant drop from the 11.2 percent he posted. He's not going to shoot 5.3 percent again, I'm confident in saying that, so with an increasing role and more minutes, a new career high in goals isn't asking too much.
Last season: 33 games, 2 goals, 12 assists. 82-game projection: 5 goals, 30 assists
Maybe a change of scenery will do Penner good at this point, even though the scenery hardly changes as you shoot down I-5 from LA to Anaheim. But you get the point.
Penner was on these lists before this past season when he somehow managed to put up worse numbers than the previous campaign. All of a sudden he found himself getting less than 13 minutes a game, a fact that wasn't helped by his wretched 3.3 shooting percentage. Even if he is on the downslide in his career, two goals on 61 shots seems like a crazy low number in the NHL. You'd think by nothing more than luck it would be a little higher than that.
So there's that for Penner, it's really hard to imagine he could be worse still. Really there has to be some hope that his 23-goal season of 2010-11 is still in him somewhere, but an expectation of that would only be unrealistic. At this stage, though, seeing Penner get back up to 12-15 goals or so for the season would be a step in the right direction and considering his numbers in LA that would certainly qualify for a bounceback.
The other option is that Penner's last two seasons in LA were a sign of things to come as we know power forwards don't always age the most gracefully in hockey. However I'm betting against that option.

Jonathan Quick, LA Kings
Last season: 37 games, .902 save percentage, 2.45 goals against average
Really, this one is a no-brainier. We all know that Quick is much better than he showed last season. Is he as good as he was two seasons ago? Probably not, though that near-Vezina campaign was more indicative of the goalie he can be than this past season in LA was.
His stats for this past season were not only below his career averages, but well below, at least in terms of the save percentage. Quick is simply too good and is still in his prime age as a goaltender to see those kinds of numbers again.
Historically, a lot of goalies bounce back and forth between good and bad seasons. Have a breakout campaign like Quick did with his .929 save percentage and those funny stats have a way of restoring balance to the cosmos. Post a save percentage 14 percentage points above your career average in one season? Post one 13 percentage points below that average the next.
Making this selection even easier is the fact that Quick found his old form in the postseason again. He wasn't as stellar as he was during the Cup run but he was still outstanding as his postseason save percentage jumped to .934. Of course that ability is still in him.
Keep in this in mind with Quick, too: While he is likely a lock to make the U.S. Olympic team, there are a lot of good American goalies who are competing this season for a spot and the starting job. Quick says he won't be thinking about it much but it probably won't be a coincidence if he's on his game with that goal in mind as well.