Tomas Vokoun out 3-6 months; Penguins have no plans to add goalie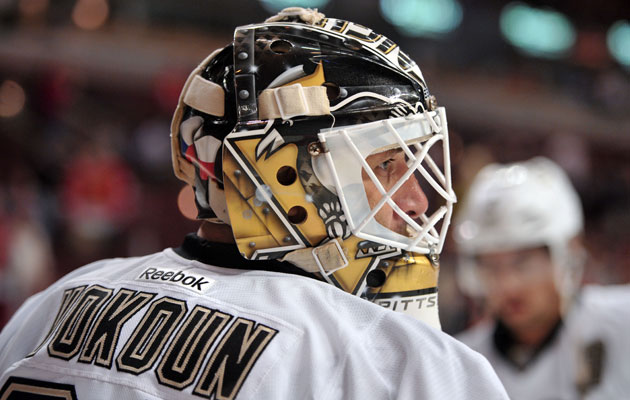 NHL previews: Atlantic Division | Metropolitan Division | Central Division | Pacific Division
Pittsburgh Penguins general manager Ray Shero gave an update on the status of Tomas Vokoun on Wednesday, putting a timetable on a possible return for the goaltender. Shero said that Vokoun is going to be out 3-6 months after having a blod clot on his pelvis removed.
"Physically he's doing great," Shero said. "Mentally he's doing great, which is good news. [Vokoun] will be on blood thinning medicine. During this time he's OK to workout and do everything except play hockey. We'll evaluate this as we go along.
"The most important thing for Tomas and for us is his short-term health and long-term health. He's in good hands."
Understandably, Vokoun isn't worried about hockey at the moment.
"Right now I'm not thinking about my career or playing hockey, I'm more worried about long-term health," Vokoun said. "I've gotten great care from the doctors and the team. Top professionals are giving me advice.
"I know where I stand. I'm going with the short term. Three months is a minimum. After that I'll evaluate where I am. The doctors will monitor my health and progress. Then I'll make my decision then."
That's a major blow for the Penguins. Vokoun was relied on a lot last season despite the fact that he was the backup to Marc-Andre Fleury. He eventually usurped Fleury in the playoffs when the starter began to struggle mightly again.
Now on the long end of this recovery timetable, Vokoun could be out until April, right when the real season is about to begin. Not having Vokoun for that whole time (and then who knows where he's at rust wise when able to return) is going to be a burden for the Penguins as Fleury will carry a much larger load than perhaps they planned.
As to the backup with Vokoun out, Shero said he has no intention of bringing in a new goalie and they will give Jeff Zatkoff the opportunity to be the backup. No offense to Zatkoff, but he's not Vokoun.
The good news, though, is that from the sounds of things, it's not going to derail the rest of Vokoun's career if he chooses. There had to be some fear of that when Vokoun said he nearly died from the blood clot that was discovered in practice.