NHL rumors: Ilya Bryzgalov close to signing deal with ECHL Las Vegas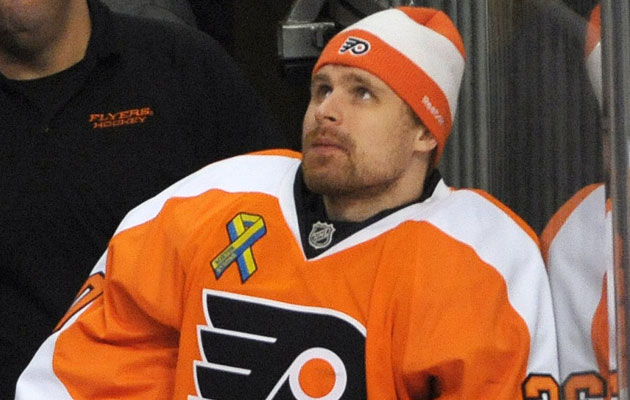 NHL previews: Atlantic Division | Metropolitan Division | Central Division | Pacific Division
Since the Philadelphia Flyers used an amnesty buyout on goaltender Ilya Bryzgalov , he's been unable to find a job anywhere to play goal, or at least any job that he wanted. That's reportedly about to change.
According to TSN's Darren Dreger as well as Stephen Whyno of the Canadian Press, Bryzgalov is on the verge of signing a contract with the Las Vegas Wranglers of the ECHL. Yup, the ECHL.
Hearing same as @DarrenDreger that Ilya Bryzgalov is closing in on deal with ECHL team in Las Vegas.

— Stephen Whyno (@SWhyno) October 3, 2013
Bryzgalov hoping signing with Las Vegas Wranglers can get him back into NHL.

— Stephen Whyno (@SWhyno) October 3, 2013
That would be something. Last season Bryzgalov was making an annual average salary of $5.667 million, this season he could be playing two levels below the NHL? Ooouch, what a fall.
Las Vegas, as we've learned, will welcome anything to drum up interest. This is the same franchise that had Mike Tyson sound a siren and played an "indoor" winter classic. Bringing in Bryzgalov would do more than all of that to get them the attention they need.
As for Bryz, well it seems like a long shot in so many different ways -- would he really be able to show teams what he's got from the ECHL? -- but at this point, he might not have any other options.
But there does seem to be something that fits with Bryzgalov and Vegas, doesn't there?