Martin Brodeur on Cory Schneider: 'He's in the net now to stay'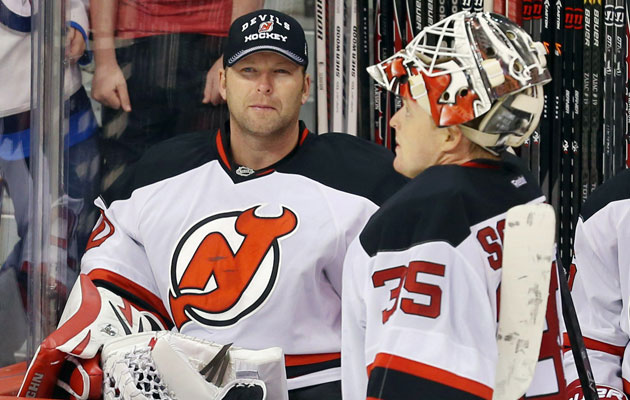 More NHL: Scores | Standings | League Leaders | Odds | Injuries | Power Rankings
At the draft the New Jersey Devils made one of the biggest moves when they traded for Cory Schneider in Vancouver, brining him to the East Coast to be the successor to the great Martin Brodeur. The only question was how soon would that happen, Brodeur was tabbed the starter at the beginning by coach Peter DeBoer.
Well on Thursday Schneider will get his third consecutive start -- and his second start against his former club -- and it's only game No. 10 for the Devils. Brodeur can see the writing on the wall.
From Tom Gulitti of the Bergen Record:
"I think he's in the net now to stay," Brodeur said today. "I don't see that's going to be changed any time soon. I'll be ready if it is, but I think we've got to try to win some games somehow. This is what [head coach Pete DeBoer] feels is the best opportunity for him to be successful is having [Schneider] in the net and that's fine. If we win, everybody's happy. Even though I don't play, it's more enjoyable to be around."
For as great as Brodeur has been in his career, just about everybody saw this coming at some point this season, though I'm not sure many thought it would happen this quickly. Surely it has something to do with the fact that the Devils are just 1-5-3 this season.
Or it might be the fact that Schneider simply gives them the best chance to win at this point in each of their careers. Schneider has a .917 save percentage and a 2.21 goals against average in five games this season. Brodeur? He has a .865 save percentage and a 3.40 GAA in four games. That's quite a contrast.
For his part, DeBoer is still doing a pretty good job of dodging any real controversy.
DeBoer on Schneider & Brodeur: "The good news is we've got two top flight professionals that are better people than they are even players."

— NHLDevilsPR (@NHLDevilsPR) October 23, 2013
This is new territory for Brodeur, he's never really had to share his net in two decades of starting for the Devils, but while he sounds a bit defeatist (or realist, depending on your perspective) he's not going to just lie down and go down with a whimper. This is the all-time leader in wins we're talking about here.