Report: Sabres were willing to make Thomas Vanek highest-paid in NHL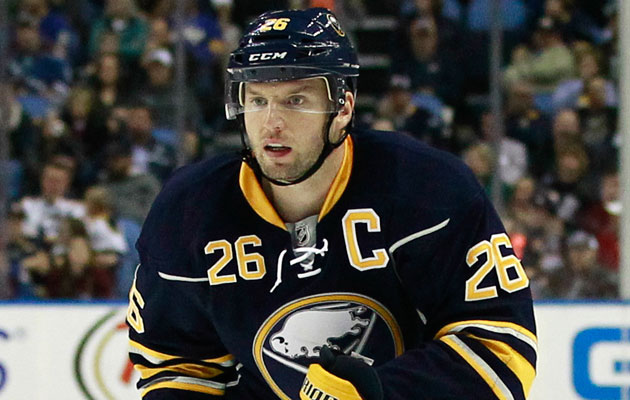 More NHL: Scores | Standings | League Leaders | Odds | Injuries | Power Rankings
How does Thomas Vanek, highest-paid player in the league sound? It could have been the case.
Vanek had a couple of options in Buffalo, either make his way out of town in the Sabres' dismantling of the roster in their rebuilding attempt or to decide to stay and ride out what is sure to be a painful couple of seasons.
Perhaps it doesn't sound like it would be a tough call, nobody likes losing. But the Sabres apparently were willing to do what they could to keep Vanek around, which was spend a lot of money. From John Vogl of the Buffalo News:
Thomas Vanek could have been paid handsomely to stay in Buffalo. A source, in fact, says the Sabres were willing to make him the highest-paid player in the NHL.

He'd rather win than take part in a rebuild, which has been his message since last season.
If that's truly the case, the Sabres should be glad Vanek elected to go elsewhere and win. To be the highest-paid player in the league he would have to surpass Alex Ovechkin's annual salary. The Great Eight carries a cap hit of more than $9.5 million by his name right now. That's a whole lot of dough.
First off, as good of a player as Vanek is, he isn't worth that kind of contract (it's debateable if Ovechkin even is). Vanek has only had two 40-goal seasons in his career, with 43 being the most in one season back in 2008-09.
Further, for a team that's undertaking a complete rebuild, committing that kind of money and presumably term to a veteran player would have been just irresponsible. That's the last thing a team should want in a rebuilding process.
Considering Vanek is already carrying a cap hit north of $7 million, it's not that crazy to think this was a real consideration and no doubt Vanek will be paid handsomely this summer whether it be by the Islanders or some other team. But good night, highest-paid player? Take Matt Moulson, the two high draft picks and count your lucky stars, Buffalo.