Semyon Varlamov will travel with Avs to Dallas as allegations mount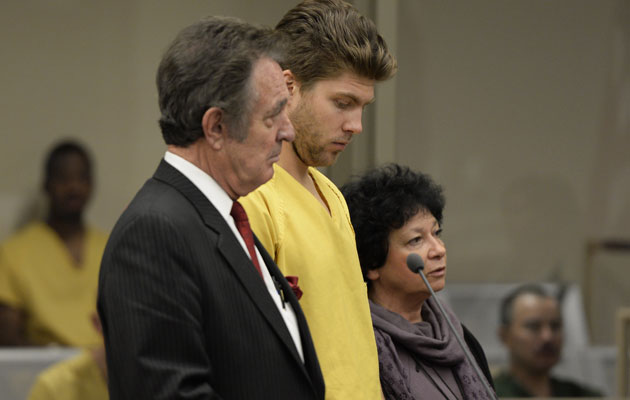 More NHL: Scores | Standings | League Leaders | Odds | Injuries | Power Rankings
After being arrested on domestic violence charges Wednesday, Avalanche goaltender Semyon Varlamov had bail set at $5,000 and was given permission to travel in court on Thursday. Now he will go with the team to Dallas for a game against the Stars on Friday night.
Speaking to the media on Thursday, coach Patrick Roy said he didn't have much information and didn't know yet what they were going to do. Later, though, the Avs confirmed to the Denver Post that they won't be calling up another goalie because Varlamov will join the team on the trip to Texas.
Whether or not he starts is another matter but you would have to guess that they will start Jean-Sebastien Giguere given the past 24 hours or so for Varlamov. It's not like that's a problem for them, Giguere has been sensation in his three games this season.
Meanwhile, the allegations from Varlamov's girlfriend continue to come out, each one seemingly worse for the Avs goalie than the last.
#Varlamov girlfriend Evgeniya Vavrinyuk says she is scared to go back to Russia because she and her mom have been getting threats.

— Sadie Gurman (@sgurman) October 31, 2013
#Varlamov's girlfriend pointed to arms, chest, stomach, neck, places she said he bruised her. "She's very fragile," translator says.

— Sadie Gurman (@sgurman) October 31, 2013
Said #Varlamov drank from 2 pm to 6 am before attack. "He has no concept of when to stop drinking. When he drinks he turns into an animal."

— Sadie Gurman (@sgurman) October 31, 2013
Vavrinyuk's lawyer already detailed her side of the story, saying Varlamov threw her down and stomped her. The police report also says that Varlamov told her that if they were in Russia, he would have beat her more.