NHL Revealed: League announces seven-part behind-the-scenes show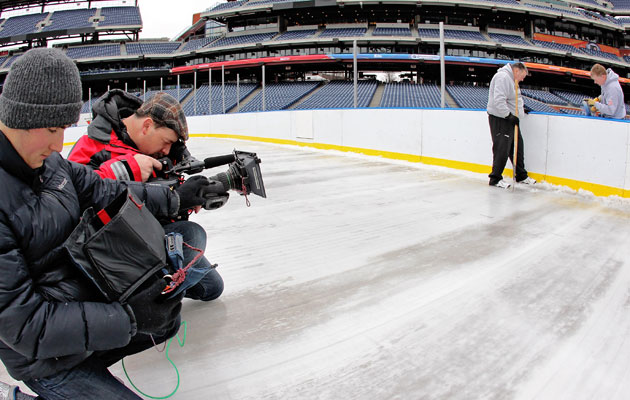 More NHL: Scores | Standings | League Leaders | Odds | Injuries | Power Rankings
If you just can't get enough of the behind-the-scenes coverage of the game then does the NHL have a gift for you.
On the day that filming began for HBO's 24/7: Road to the Winter Classic began in Detroit, the NHL announced the creation of another show that will peak behind the curtain. The new program called NHL Revealed: A season like no other will air its premier episode on Jan. 22 on NBCSN in the States and Jan. 23 on CBC in Canada.
Here's a taste of what you can look forward to with the new show:
NHL Revealed is a seven-part series telling the stories of more than two dozen of the League's top stars as they prepare for and participate in 2013-14 regular-season games, including the four 2014 Coors Light NHL Stadium Series games and the Tim Hortons NHL Heritage Classic. Additionally, the cameras will follow the stars during the February trip to compete in the 2014 Sochi Winter Olympics.

Players expected to be featured in "NHL Revealed" include Sidney Crosby of the Pittsburgh; Jonathan Toews and Patrick Kane of the Chicago Blackhawks; brothers Daniel and Henrik Sedin of the Vancouver Canucks; John Tavares of the New York Islanders; and goaltenders Henrik Lundqvist of the New York Rangers and Jonathan Quick of the Los Angeles Kings.
It sounds similar to the NHL 36 show that ran during last season on NBCSN where a player was followed for 36 hours prior to a game but a little different as well. The seven-part series will focus on the outdoor games and then the Olympics and will probably look quite a bit like the oh-so popular HBO series. That's because Ross Greenburg, who was the executive producer for the first 24/7 series will be serving as an executive producer on this series alongside Bristow Global Media.
"'NHL Revealed' is all about answering our fans' demand for more great content and our partners' demand for new ways to engage with our fans," NHL Chief Operating Officer John Collins said. "Julie Bristow and Ross Greenburg are accomplished storytellers who can weave a compelling narrative through seven episodes by following our top players and highlighting the subplots and storylines that are sure to emerge. The access our clubs and players are generously providing is what will make this a great series."
Frankly, there can never be enough of these shows because they never lack for interest. Even a player like Jonathan Quick, who is hardly a must-hear quote, should provide some good TV. It's the nature of the programming.
Perhaps the coolest part, though, is that they will document the Olympics in Sochi as part of the series. That's a totally different atmosphere at the Games and such a unique and awesome experience it will be excellent to get a mini 24/7 from Russia.