Tomas Vokoun feels great, won't rule out return in 2013 or retirement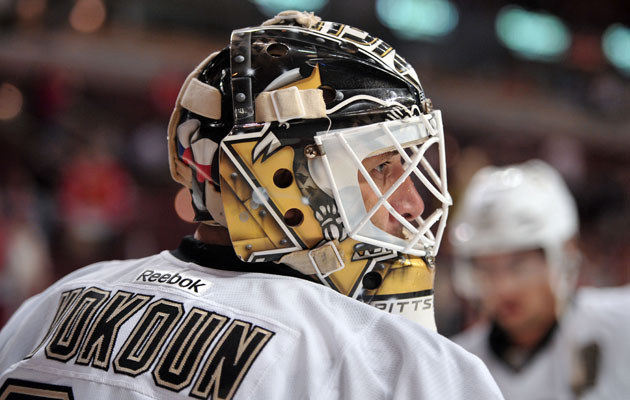 More NHL: Scores | Standings | League Leaders | Odds | Injuries | Power Rankings
Since he was put on injured reserve after an operation to fix a blood clot in his pelvis, Pittsburgh Penguins goaltender Tomas Vokoun hasn't been around the team much and has been quiet in the media. He hasn't been with the team but instead with his family back in South Florida.
On Saturday night he had a chance to see his team in person again against his former team as the Penguins visited the Panthers. Vokoun watched the game from the press box and after the first period addressed the media about his status and addressed some of the speculation that he might be done playing for good.
At this point, he can't say much one way or the other.
#Pens Vokoun still on medication, but feels good. Hasn't ruled out returning this season or retiring. Depends on Dr recommendations

— Pittsburgh Penguins (@penguins) December 1, 2013
"I feel great. I don't have any health issues. It's hard to look that far ahead. Definitely if I can (return) I want to try." -Vokoun #Pens

— Pittsburgh Penguins (@penguins) December 1, 2013
"In a month I'll see the doctor & see what he thinks I should do. Then it's up to me to weigh pros & cons and make a decision" -Vokoun

— Pittsburgh Penguins (@penguins) December 1, 2013
Obviously, the good bit of news in there is that Vokoun feels great and doesn't have any health issues at this point. That's a nice first step to a recovery and a potential return.
Vokoun left a practice in the preseason in pain and it was discovered that he had a blood clot in his pelvis, something Vokoun said nearly took his life. He played 20 regular-season games for the Penguins last season with a .919 save percentage and 2.45 goals against average. He then played 11 postseason games with even better numbers at .933 and 2.01.