NHL rumors: Steve Mason, Flyers mull deal; Carey Price comparable?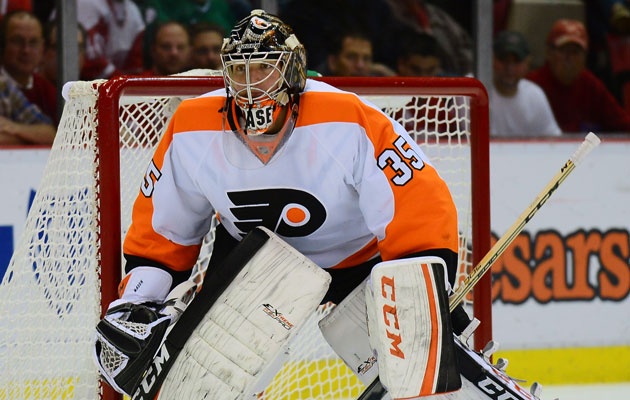 More NHL: Scores | Standings | League Leaders | Odds | Injuries | Power Rankings
Since Steve Mason came to the Flyers last season at the trade deadline, he has been a bit of a revelation.
He played very well in the short time last season which led to a one-year, $1.5 million, somewhat of a prove-it deal, a second chance to prove much more than he had shown in Columbus over the past couple of years. He has proven it so far this season, continuing to play at a high level with a .929 save percentage and 2.26 goals against average. He's been the best Flyer this season.
Soon it will be time to parlay that play into a new deal and Mason's agent Anton Thun is thinking big. Like Carey Price big. From Tim Panaccio of CSN Philly:
At the same time, given how the Flyers torched themselves with the absurd nine-year, $51 million contract, rest assured, Thun knows the term here will be about half of what Bryz had.

Thun equates his client to Montreal's Carey Price, who also happens to be in the Team Canada Olympic picture.

"I think Price is a very good comparable," Thun said.
Is he though? Mason is having a very good season but Price is having a better one. Price has a wild .938 save percentage and a 1.95 GAA. Not to mention that Price has a longer track record of his success than Mason, who was frankly bad the last couple of years in Columbus.
Price, by the way, is in the second season of a six-year contract he signed with the Habs for a cool $39 million -- $6.5 million per season.
Before getting a big deal it would be comforting if you're GM Paul Holmgren to see just a bit more from Mason. He has shown a lot but we're still talking about less thna a full season of time in Philly so far. Then again, Holmgren doesn't need to be comfortable to make big deals.
Right now it's just the early stages of any negotiations, if they really have even begun. No deal can be announced until January so there is some time but it's tough to not see a deal being done. Mason has given the Flyers the goaltending they haven't had in years. FOr that he deserves credit but before a massive pay day might want to see just a little more
S/t PHT