Pierre-Marc Bouchard placed on waivers by struggling Islanders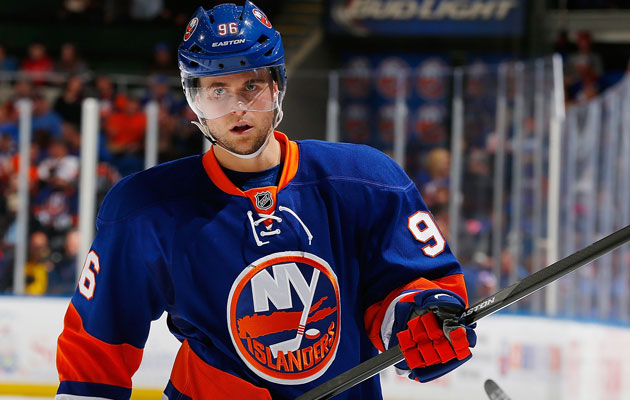 More NHL: Scores | Standings | League Leaders | Odds | Injuries | Power Rankings
With the New York Islanders mired in a nine-game losing streak and falling well back in the playoff race, some change seemed inevitable. We got our first taste of it on Monday.
The Islanders put forward Pierre-Marc Bouchard on waivers. The expectation is that hot prospect Ryan Strome will be recalled to join the team to fill in Bouchard's place.
Bouchard, who signed a one-year, $2 million contract with the Isles this summer, has struggled of late, but who hasn't for the Islanders? He's a capable enough offensive player who has a positive Corsi (indicative of possession) number at 51.1 percent. His four goals and five assists in 28 games have been a result of poor puck luck has much as anything else.
While Bouchard hasn'tbeen the answer to the Islanders' struggles, he hasn't really been the problem either. But if the Islanders are going to get Strome up, somebody has to go to make room.
Apparently Bouchard had been the target for movement by the Islanders for a while now. According to Arthur Staple of Newsday, they had looked at trading him with obviously no luck.
#Isles offered Bouchard around league, no takers on a trade. Much like w/ B. Comeau two seasons ago. Needed to clear roster spot for Strome.

— Arthur Staple (@StapeNewsday) December 9, 2013
Just because no team wanted to give up an assets for Bouchard doesn't mean they won't take him on waivers. At his low cost and short term, he should be an attractive option for teams on the waiver wire. Don't be surprised if he's picked up.
Bouchard has battled concussion issues over the past few years but he's been healthy of late. Last season he had 20 points in 43 games for the Wild. In New York he didn't get much of a chance in terms of his linemates and role. Perhaps he will be given a shot somewhere else that he didn't really get with the Isles.