Winnipeg to host Heritage Classic, likely in 2015-16 season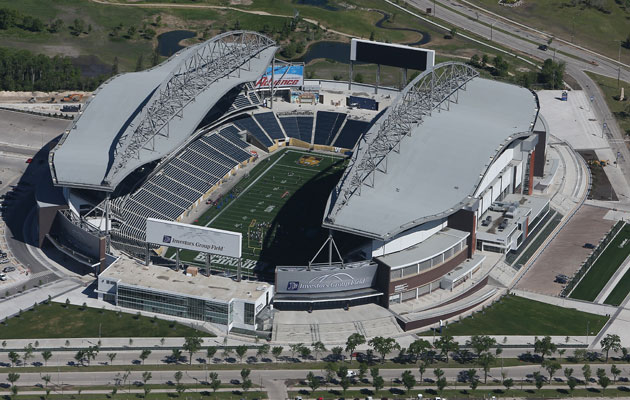 More NHL: Scores | Standings | League Leaders | Odds | Injuries | Power Rankings
The wave of outdoor games won't stop coming.
As the owners from across the NHL meet in California, a lot of league items are being hammered out. There was the salary cap projection, ratifying the new TV deal, hearing how the new rules and disciplinary measures are going. Add the discussion of more outdoor games to the list.
The 2015-16 season will mark the fifth anniversary of the Jets' return to Winnipeg so it appears that the league wanted to do something nice for the fans in the True North. That something: the Heritage Classic.
Jets chairman Mark Chipman confirmed Monday the league and True North have agreed to play a Heritage Classic at Winnipeg's Investors Group Field two seasons from now.

"The NHL has confirmed to me they are going to do an outdoor game in Winnipeg. I don't have a specific date to announce but it would be our preference that we do it in the 2015-16 season," Chipman told the Free Press Monday evening in the lobby of the Inn at Spanish Bay. "The date hasn't been confirmed but our preference is to do it then. The league's commitment to doing an outdoor game in our city is fantastic. It's something we've been talking about for some time and it's part of a significant strategy to do outdoor games and it will be great to be a part of it. We just have to firm up some details and hopefully we'll have a date to announce fairly soon."
If there were ever a city that outdoor hockey would work well, it's Winnipeg. The game could be played any time within the winter months and you're pretty much guaranteed to have a nice, cold day to play hockey. And the fans will show, there are a lot of fans that don't get to see many games as they sell out their small arena on a nightly basis.
Investors Group Field is home to the CFL's Winnipeg Blue Bombers. The capacity of the stadium is around 33,000 but the belief is that could be expanded to 41,000 for any hockey game played there.
The Heritage Classic is returning to the NHL schedule this season as part of the NHL's Stadium Series. The Ottawa Senators will face the Vancouver Canucks at BC Place later this season. Previously games have been held in Calgary and Edmonton.
Also on the outdoor hockey radar, the Phoenix Coyotes. No really.