Burke interim GM for Flames, seeks new GM to instill 'truculence'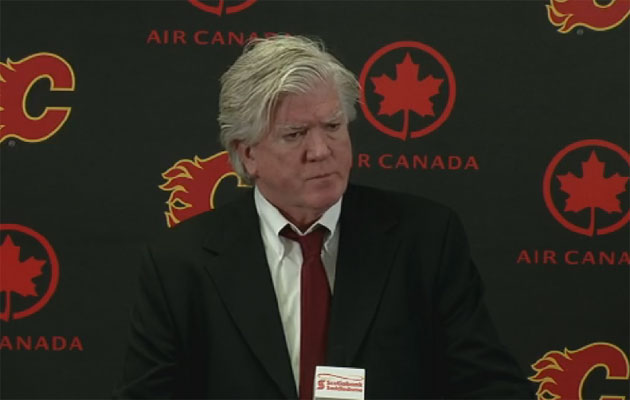 More NHL: Scores | Standings | League Leaders | Odds | Injuries | Power Rankings
When Jay Feaster was fired as the general manager of the Calgary Flames on Thursday, immediate speculation was that Brian Burke would take over as the GM. He will, but only temporarily.
In announcing Feaster's firing, Burke, Calgary's president of hockey operations, said he will take over the duties of the GM on an interim basis while looking for a replacement, similar to Pat LaFontaine running the Sabres, a team Burke alluded to as competition in the search for a new GM.
That process has already begun.
"We have received permission to speak with one candidate already. I did not come here to be the general manager and I will not be the general manager but for a short time."
Don't look for him to be all that active in that short time either. From here through Dec. 27, Burke's famous holiday roster freeze is in effect, so he won't be making any deals.
Burke didn't mention any possible candidates at the press conference but one name that is already popping up is former Flames star and ex-Stars GM Joe Nieuwendyk. Either way Burke let everybody know what he wants out of his team, something we saw him do in Toronto.
"We're not hostile enough for me," Burke said. "I don't like flag football, I like teams that bang. I don't like the way we play. We want black-and-blue hockey, that's what we do in Alberta. That's the first thing." Then he threw out the word truculence like old times. It was classic Burke.
This move doesn't foreshadow bad news coming for the coaching staff led by Bob Hartley. Burke explained that he's very happy with the coaches and that he has promised they will coach through the remainder of this season. Though a new GM might want to change direction at that point, for now it's Hartley's gig.
This move to fire Feaster wasn't something that Burke knew he was going to do once he took his role with the franchise. He said that he spent the first 60 days reviewing the organization and after that time he presented ownership with his ideas on what needed to be done.
"My conclusion is that we needed to make a move to get to the next level," Burke said. So it was done.
Let the Brian Burke era of truculence and hostility begin in Calgary.