NHL rumors: Flyers, Islanders making runs at landing Max Pacioretty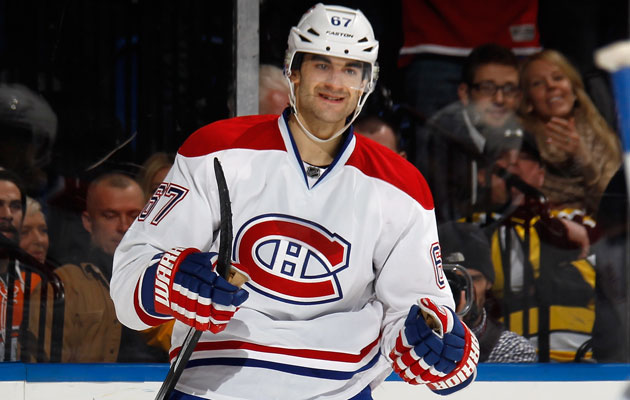 More NHL: Scores | Standings | League Leaders | Odds | Injuries | Power Rankings
Sometimes rumors start to spread and they make you simply scratch your head. This is one of those rumors.
According to Larry Brooks of the New York Post, both of the Flyers and Islanders could be looking to make big runs at Canadiens star forward Max Pacioretty. The mysterious part there is why Pacioretty would even be available (if he really is).
It seems inexplicable, but Slap Shots has heard continued chatter about the Canadiens'' willingness to trade Max Pacioretty, the 25-year-old winger who apparently isn't Michel Therrien's ideal.

...

We're told the Islanders and Flyers are taking serious runs at Pacioretty, who has a club-friendly contract worth $4.5 million per that runs through 2018-19, but Montreal GM Marc Bergevin isn't prone to dealing him in the East -- if he's willing to deal him at all after the roster freeze melts after Friday night's games.
If, and that remains a big if, Pacioretty really is available to be had, then it shouldn't be hard to find a trading partner at all. Maybe with this information making its way into the media, the Habs will get a few more teams on the phone. As Brooks notes, his contract is very friendly to teams and he is locked into that level for many years to come.
Pacioretty already has 15 goals this season in just 29 games, putting him on pace to push his career high of 33 goals in a season, set in 2011-12. He's still young and just entering his prime. It's hard to imagine a team wouldn't want him, that includes the Canadiens.
One of the rumored teams makes sense; the Flyers are in on every big trade potential and there was never a move that Paul Holmgren wasn't willing to make. The Flyers could use another scorer on the wing. The Islanders though? That would be an interesting pairing. They already acquired Thomas Vanek earlier this season, which did little to address their real concern on the back end. At least Pacioretty would be a long-term investment more than Vanek, who is a free agent this summer.
Nothing will happen on this front for the next few days, that's for certain with the NHL's holiday roster freeze in effect. Frankly, nothing might happen at all (that's still where I'd put my money), but it's a very intriguing and juicy rumor to pop up, especially with the Canadiens doing well this season.