NHL rumors: Michal Neuvirth latest Capital to ask for trade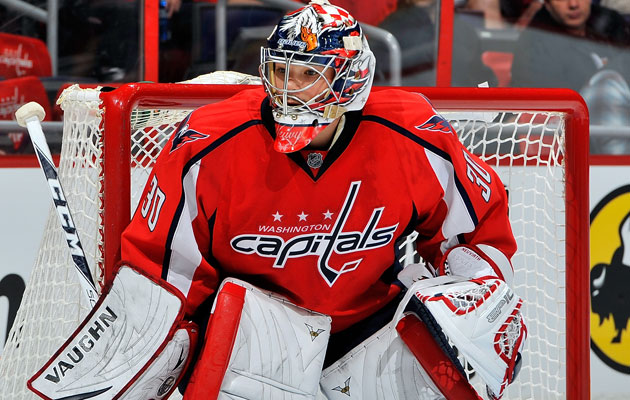 More NHL: Scores | Standings | League Leaders | Odds | Injuries | Power Rankings
For the third time this season, a member of the Washington Capitals (or said player's agent) has asked to move on from the franchise. This time it is goaltender Michal Neuvirth.
Earlier this month the Capitals recalled young netminder Philipp Grubauer from the AHL when Neuvirth was a little dinged up and since then Grubauer has had the lion's share of the work, supplanting Braden Holtby in the past few weeks as the go-to goalie for the Caps. That has left Neuvirth as the third man out, and watching a lot of games from the press box.
Neuvirth, who has been with the Capitals for each of his six NHL seasons, isn't pleased with that position. He wants to be a starter in the NHL and the writing is on the wall that he won't really get that chance with the Caps, something that seemed certain to happen a few years back when the Caps traded Semyon Varlamov to Colorado.
Neuvirth's agent Patrik Stefan spoke with Adam Vingan of NBC Washington and he made it pretty clear he wants Neuvirth out of DC.
"Let me just put it this way," Stefan said in a phone interview on Monday morning when asked if Neuvirth has formally requested a trade. "I want Michal out of Washington."

Neuvirth last dressed for an NHL game on Nov. 29, when he was scheduled to start against the Montreal Canadiens at Verizon Center. Yet as he took the ice for pregame warmups, he stepped on a puck and injured his Achilles, forcing him out of the game before it even began. The following day, the Capitals recalled Philipp Grubauer, who has since started seven of their past 10 games and forced Neuvirth out of the team's goaltending rotation.

"Well obviously right now, they have three goalies up with the big club," Stefan said. "He's been sitting in the stands for the past week or so. ... I'm hoping and I'd like and want Michal out of there. It obviously doesn't seem like he's getting a chance to play and sitting in the stands doesn't do anything good for the club and obviously Michal. He still has the potential to be a No. 1 guy in the NHL."
With Neuvirth making it clear he would like to find a new team, he joins Martin Erat and Dmitry Orlov as players who already this season asked for a trade. Orlov's opinion might have changed as he has finally started to receive playing time but it still means that GM George McPhee is likely to remain busy on the phones.
This season Neuvirth has played in just seven games, posting a .912 save percentage and 2.83 goals against average. But back in 2010-11 he was the No. 1 guy and played in 48 games with a .914 save percentage, 2.45 GAA. He then played nine playoff games with similar numbers. He's still just 25 years old and a few years ago it looked like he was going to be the Caps' goalie for the future. Question is if any team thinks he can be their top goalie down the line.