Winter Classic Expert Picks: Maple Leafs picked to beat Red Wings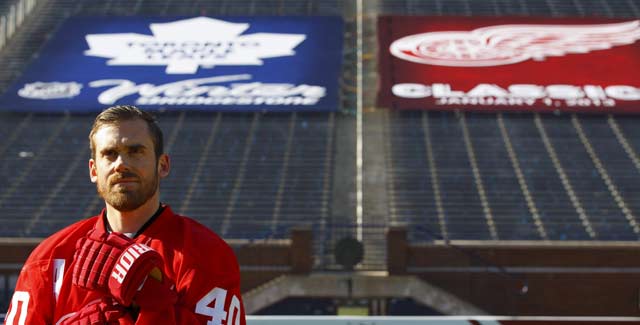 More NHL: Scores | Standings | League Leaders | Odds | Injuries | Power Rankings
The Maple Leafs and Red Wings play at 1 p.m. ET on NBC at the Big House in Ann Arbor, Mich. And it's about time. We've waited nearly two years for this matchup thanks to the NHL Lockout costing us the 2013 Winter Classic.
More than 100,000 fans will pack the famous football stadium for what is expected to be a guiness world record for most people watching a hockey game.
There's even snow in the forecast that would create the snow-globe effect that we saw during the original Winter Classic in 2008 between the Sabres and Penguins at Raph Wilson Stadium.
Detroit is a small favorite to win the game but here's what we think will happen:
Score: Maple Leafs 3, Red Wings 2
First Star: Peter Holland
It's probably too small of a sample size to judge from and frankly it probably has little significance, but it's tough to ignore that road teams have won four of five Winter Classics so far, obviously landing in the favor of Toronto. The conditions will make this game more a crapshoot than even a regular-season tilt and the Leafs' physicality might have a bigger impact. Typically the games aren't terribly aesthetically pleasing (also probably in Toronto's favor) and the spotlight players can come beneath the radar like Marco Sturm or Mike Rupp, hence Peter Holland for the first star.
Score: Red Wings 2, Maple Leafs 0
First star: Henrik Zetterberg
The inclement conditions expected for the Winter Classic is going to make this really tough to predict. Depending on how bad it is snowing, I don't think the speedier guys in the Maple Leafs' lineup will be able to get going like they normally do. The weather can be a great equalizer out there and can neutralize speed and skill, but I think Red Wings veterans like Pavel Datsyuk and Henrik Zetterberg are crafty enough to make a few things happen no matter the conditions. Wednesday's game could be a really sloppy one, but it should still be a lot of fun.
Score: Maple Leafs 2, Red Wings 0
First star: Phil Kessel
There's no doubt that both of these teams are struggling entering the NHL's biggest event of the season. But something just seems off about these Red Wings right now after they lost 6-4 in Nashville on Monday night. Goalie Jimmy Howard returned for the first time since he was injured and gave up a few stinkers to the Predators. Phil Kessel scores the game-winning goal early in the third period and the Leafs add an empty-netter to send the thousands of Maple Leafs fans in attendance back across the border smiling.