2014 Winter Classic: Michigan Stadium ready as snow keeps falling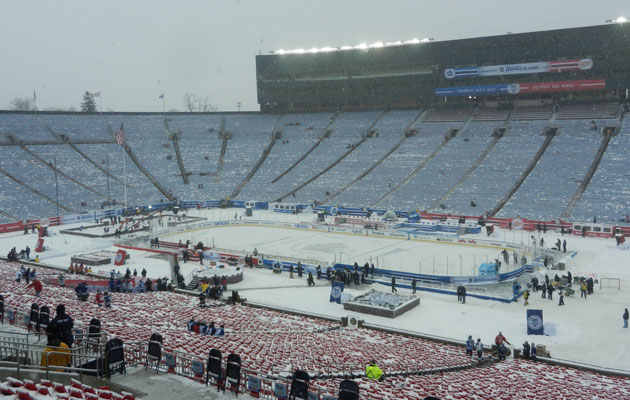 More NHL: Scores | Standings | League Leaders | Odds | Injuries | Power Rankings
ANN ARBOR, Mich. -- Happy New Year from the Big House, hockey fans. The conditions are all they were forcasted to be, well below freezing and snowy. It is truly a Winter Wonderland.
The weather outside be frightful but it's pretty much a dream come true for the fans watching at home.
As the tailgating outside the stadium on the outside rages on, the zambonis are busy at work preparing the ice and skaters keep shovelling off the snow in a constant battle. You can expect to see a lot of that during the game. But overall there should be little concern that the ice will be in tip-top shape for the game in a couple of hours.
Taking a quick spin around the stadium, it's impressive how there doesn't really seem to be a bad view in the building, unless you get too close to the field and get obstructed by the boards. But the rink sits well in the middle of the field at the Big House.
The stage is set for what should be a truly unforgettable Winter Classic between the Detroit Red Wings and Toronto Maple Leafs. Enjoy, everybody.