Tim Gleason traded to Leafs, John-Michael Liles to Hurricanes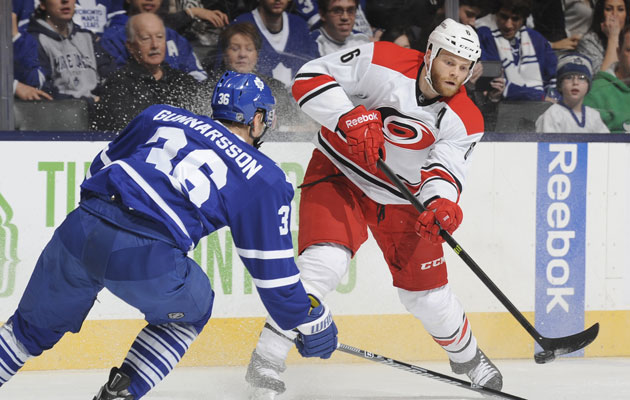 More NHL: Scores | Standings | League Leaders | Odds | Injuries | Power Rankings
Just as the Toronto Maple Leafs took the ice to play in the Winter Classic, GM Dave Nonis, on hand in Ann Arbor, was busy taking care of another form of business: making a trade.
On Wednesday the Maple Leafs struck a deal with the Carolina Hurricanes to swap defensemen (with a prospect in the mix). The Leafs acquired Tim Gleason from Carolina in exchange for John-Michael Liles and then Brown University player Dennis Robertson per numerous reports. The deal is expected to be made official during the game.
The Leafs have been keen on moving Liles for some time, at one point waiving him and sending him down to the AHL team in Toronto. Gleason meanwhile has been at the center of trade speculation for some time in Carolina as well, a couple of defensemen essentially strahgt up.
As far as the contracts go, well those are pretty similar too. Liles has a $3.875 million cap hit through the next three seasons while Gleason is on the hook for $4 million over the same span of time.
Gleason has only played in 17 games this season for the Leafs and has just one assist while averaging 15:54 of ice time per game. Not exactly massive production (though he's never been an offensive defenseman). Liles, who was a scratch for the Winter Classic, has only played in six games this season for the Leafs, going pointless. He, though, has been a point producer in the past, racking up 46 in 2010-11 while with Colorado in 76 games.
The trade comes the day after the Leafs finalized an extension for defenseman Dion Phaneuf and the day of the Winter Classic. So yea, things are pretty busy for Toronto.