Hawks prospect Brandon Whitney suffers four fractures near larynx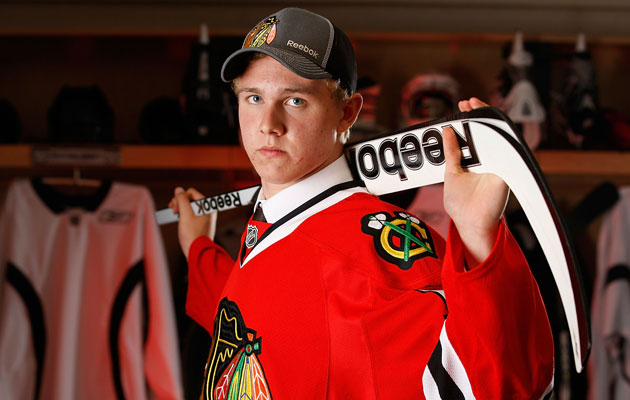 More NHL: Scores | Standings | League Leaders | Odds | Injuries | Power Rankings
Brandon Whitney , a goalie for the Victoriaville Tigres in the QMJHL and a seventh-round draft pick by the Chicago Blackhawks in the 2012 draft, suffered one horrifying injury this week: He had four separate fractures near his larynx.
Victoriaville announced on Wednesday that the goalie had successful surgery to report the fractures in his throat. The team site has more (as per usual, translated by Google, you get the drift):
Head coach of the Victoriaville Tigres, Yanick Jean, said that the team should know the duration of his absence possibly Sunday (January 12) or Monday (13 January).

The veteran goalkeeper, 19, was injured after receiving the puck in full throat after a wrist shot at the regular team training on Monday at the Amphitheatre Gilbert Perreault. It goes without saying that the pain was intense.
I can only imagine. That's an awfully serious injury, it's excellent to hear that he had successful surgery afterward.
Even with the amount of protection they wear, goaltenders in hockey are prone to some serious injuries. That's somewhat inevitable when your job is to simply get in front of frozen blocks of rubber that fly upwards of 100 MPH. It's one of the reasons why goalies resist the calls to scale back the size of their equipment; it becomes more dangerous.
Whitney was named one of the QMJHL's three stars of the week last week going 1-1 in two starts with a 1.51 goals against average and a .958 save percentage. The Nova Scotia native has a .907 save percentage on the season with a 3.23 goals against average.
S/t The Goalie Guild