Claude Noel fired as Jets coach, Paul Maurice named interim boss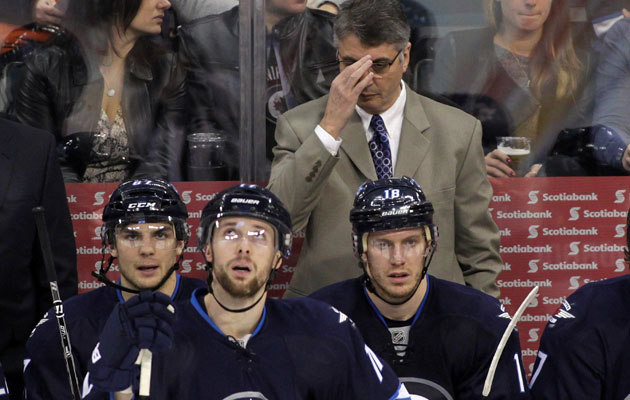 More NHL: Scores | Standings | League Leaders | Odds | Injuries | Power Rankings
On pace to miss the playoffs for a third straight season in Winnipeg, the Jets on Sunday fired the only coach they have known since moving from Atlanta, dismissing Claude Noel. Noel wasn't the only coach losing his job, his assistant Perry Pearn was also let go by the club.
At the same time the Jets decided on an interim replacement, naming former Hurricanes coach Paul Maurice to the post.
The timing isn't all that surprising as the Jets have now fallen far back of a playoff spot and are a very long shot to factor in the equation this season. That's what happens you lose five games in a row as the Jets have done recently.
Clearly the honeymoon phase in Winnipeg has come to an end. The first season was simply gravy and the second, well there were still some lingering good vibes from simply getting hockey back. But Winnipeg isn't going to put up with a losing team forever and this season it was expected that this core was going to finally start to turn the corner. It hasn't happened.
Now if the Jets had remained in the Eastern Conference this season instead of being switched, chances are Noel wouldn't have had the same fate on Sunday. However they did switch conferences and they hvae proven to be a notch or three behind the powers in the West, leading them to the basement of the seven-team Central Division a little more than half way through the season.
Another factor that really didn't help Noel much at all -- OK, let's call a spade a spade and say this is the real culprit -- is the goaltending in Winnipeg. Ondrej Pavelec is clearly the starter and has posted a .898 save percentage this season. Ouch. Al Montoya has been better with a .921 save percentage but in his two January appearances he has been beaten for 10 goals. Again, that's not going to win you many hockey games.
Truthfully the Jets have been a bit unlucky as their PDO (shooting percentage plus save percentage) of 988 suggests. That or the goalies really have been that bad.
As is almost always the case with a coach being fired, a lot of the problems stem from the front office and how the team has been constructed. Until the Jets' brass can figure out what to do at goalie -- and with the defense in front of the goalies that has been far from stellar as well -- Maurice and whoever might follow him will have an awfully tough time trying to get the Jets to take off. Friendly reminder: Pavelec is signed through the 2016-17 season for $3.9 million per season.
The Jets went 80-79-18 in the two-plus seasons with Noel (including a 48-game season, of course) but this season they've seen their points percentage drop to .457, the lowest of Noel's tenure.