Richard Sherman's antics didn't go over that well with NHL players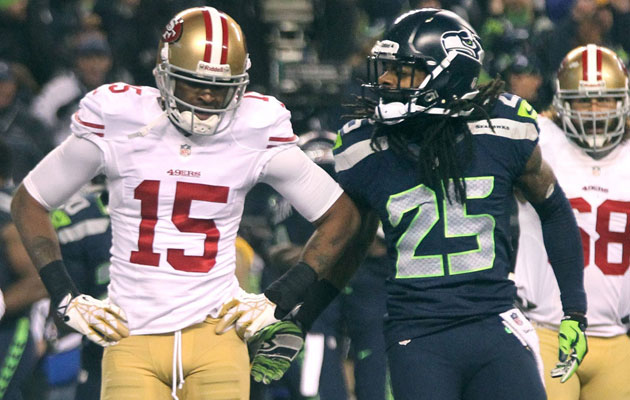 More NHL: Scores | Standings | League Leaders | Odds | Injuries | Power Rankings
Unless you spent Sunday night sleeping under a rock, you've heard a lot about Seattle Seahawks cornerback Richard Sherman's bombastic postgame interview after the Seahawks defeated the 49ers to reach the Super Bowl. It was incredibly emotional and intense.
It was also offputting to a lot of people, including hockey players.
It seems like it goes without saying but a few hockey players said it anyway: that was something you'd never see in hockey. As Panthers enforcer Krys Barch put it (I paraphrase here), the code will kick that out of players' mouths real fast.
@FriedgeHNIC In the world of @NHL we have measures that force someone like #RichardSherman to behave with class!

— Krys Barch (@krysbarch) January 20, 2014
Brendan Smith and Jimmy Howard of the Red Wings discussed Sherman's interview with Helene St. James, both coming across as being turned off by the bombastic approach. James' question followed Smith's tweet on Sunday.
Well that interview is clearly the difference between hockey and football!!!! #shermanator

— Brendan Smith (@bssmith7) January 20, 2014
Fact is, those guys are right, it's not something you'll see in hockey because hockey has a way to curb that kind of attitude. But let's not forget something; players in hockey do plenty of trash-talking too. Just watch any video footage from HBO's 24/7 for confirmation of that where even water bottles can set players off. The difference is Sherman took his to the postgame interview whereas most hockey players leave it on the ice.
It goes without saying but of course you won't see this in hockey; hockey and football are very different worlds. Hockey casts aspersions on any semblance of individualism or lack of a filter. Hockey has a code that's more than just about fighting as any episode of Coach's Corner can attest.
But would it be an awful thing for hockey to have a player as outspoken and dare I say entertaining (or at least polarizing) as Sherman? Apparently yes if you're asking hockey players.
Of course not all players or hockey people disliked it -- Paul Bissonnette seemed to be entertained -- but for the most part, the reaction was negative (see here for more). So don't expect to see many Sherman-like antics. Don't run your mouth, instead just run opponents.