John Tortorella suspended 15 days for intermission altercation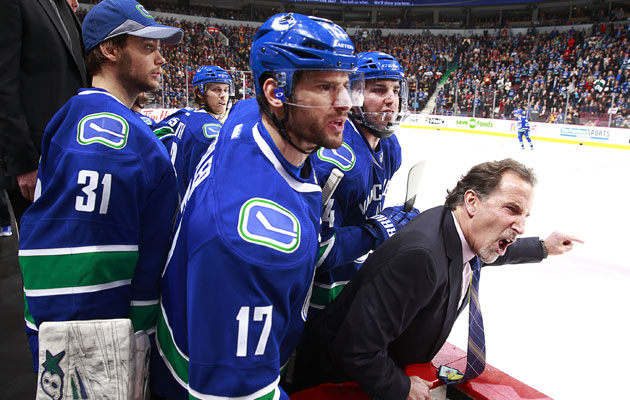 More NHL: Scores | Standings | League Leaders | Odds | Injuries | Power Rankings
Vancouver Canucks coach John Tortorella met with the NHL in New York on Monday and after the hearing he was given a suspension of 15 days without pay for his actions after the first period of Saturday night's game against the Flames. With the 15-day suspension (retroactive to Sunday), Tortorella will miss six games for the Canucks.
"Mr. Tortorella's actions in attempting to enter the Calgary Flames locker room after the first period were both dangerous and an embarrassment to the League," said NHL Senior Executive Vice President of Hockey Operations Colin Campbell. "Coaches in the NHL bear the responsibility of providing leadership, even when emotions run high, and Mr. Tortorella failed in his responsibility to the game."
The suspension means that Tortorella is not allowed contact or any interaction with the Canucks prior to, during or after games. In other words, he won't be around for the next six Canucks games in any way.
Hartley meanwhile was fined $25,000 for his role in the brawl.
It's a harsh penalty for Tortorella -- don't forget the "without pay" part -- but had to be expected. There are lines that can't be crossed and an NHL coach confronting the opposition in the hallways is one of those lines. Simply put, it was a stiff punishment that had to come. It had to be clear this was not an act that will be tolerated.
"We respect the decision made by the National Hockey League today to suspend John Tortorella for 15 days from Sunday, with no contact with the team for six games," GM Mike Gillis said in the Canucks' statement. "We would also like to acknowledge our organization's full support for John and we look forward to having him back behind the bench soon."
In the mean time the coaching duties will rely on assistants Mike Sullivan and Glen Gulutzan, who was the head coach of the Dallas Stars last season.