Steven Stamkos misses practice as leg didn't feel right, but no setback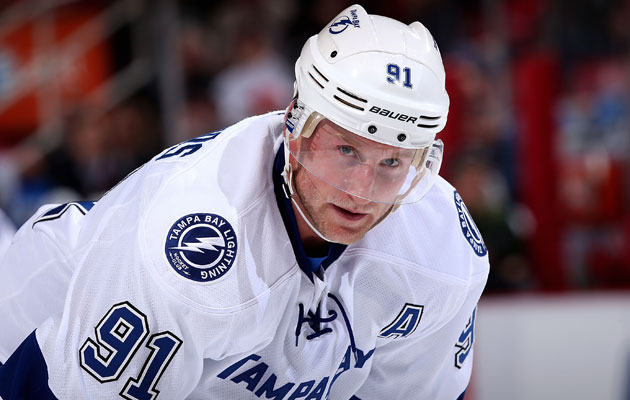 More NHL: Scores | Standings | League Leaders | Odds | Injuries | Power Rankings
In his ongoing attempt to come back from a broken leg prior to the Olympics, Steven Stamkos had to abort his practice plans on Monday when his leg didn't feel right.
But don't call it a setback. Or at least Stamkos isn't going to call it a setback, chalking it up to simply a bad day and he decided to err on the side of caution, as he put it, by leaving the ice earlier than expected.
From Joe Smith of the Tampa Bay Times.
"Whenver it doesn't feel good, it's a little frustrating," Stamkos said. "But I've not gone through something like this bfore, so when things dont' feel well, you want answers right away, and you want to know how to fix it. But it's not necessarily that easy. It's been tough, the days it doesn't feel good, especially after the strides that I've taken and how good I felt on the ice the other day. But you have to be smart with this. I thought today was a smart decision and we'll see how it feels tomorrow."
Playing a game before the Olympic break remains a target for Stamkos, who is not only trying to return to action for the Tampa Bay Lightning in their pursuit of the Atlantic Division title but be ready to represent Canada at the Olympics in Sochi, Russia.
Coach Jon Cooper said Monday's early departure doesn't alter the plans to have Stamkos travel with the team on the upcoming road trip, nothing deviating much from the plan.
The Lightning have six games between now and the Olympic break taking effect on Feb. 8, so that's the kind of time frame that Stamkos is hoping to return to the lineup. If he's not able to make that return and have his status in question for Team Canada, he'll have that conversation with Team Canada -- presumably his Lightning GM Steve Yzerman -- if he should head to Sochi as part of the team.
Stamkos remains well ahead of the projected timetable for a return from the broken leg he suffered on Nov. 11 in Boston. Initially it was feared he could be out for the entire season but the Olympics became the goal, or more specifically just before the Olympics so he could show he's ready to play. He has been coming along well in his recovery, taking the ice several times with his teammates and getting increasingly more involved.