Coyotes make case for outdoor game, will hold throwback night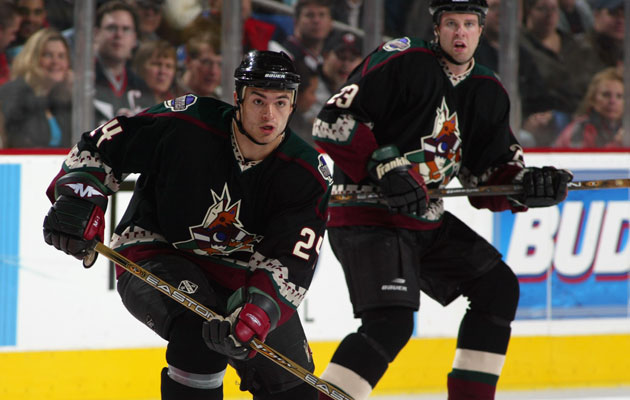 More NHL: Scores | Standings | League Leaders | Odds | Injuries | Power Rankings
A successful outdoor game in Los Angeles in which the ice held up remarkably well for the Ducks and Kings earlier this month has started to make the idea of an outdoor game in Arizona seem much more feasible.
With the expectation that there will be four more outdoor games next season -- and with Denver very likely to get one -- Arizona is one of the locations interested to get in on the action. We've heard these rumblings before but it's a little more than just a hopeful idea at this point.
Speaking at a Town Hall Meeting with fans on Saturday, Phoenix Arizona Coyotes co-owners Matthew LeBlanc and George Gosbee addressed the outdoor game possibilities, saying they have pitched the idea to the NHL.
"It's a tremendous event and it's exactly what we need in this market to help us grow the brand of the NHL and hockey in general," LeBlanc said. "I feel very confident. I think we gave a compelling story [to the League]."
"I think we made a very good case," Gosbee said. "Obviously there are lots of cities vying for an outdoor game so we have to wait our turn ... We know that we can put 55,000 people in an arena to come out and see the Coyotes play an outdoor game."
The most likely venue to host a game would likely be the Arizona Diamondbacks' ballpark in Phoenix but University of Phoenix Stadium across the parking lot would also be an option if it's available. Both have forms of shelter from the heat and sun that could make the ice-making process a little easier, but again, it didn't seem to be an issue in LA for the NHL.
Maybe a game won't be coming to Arizona next season but they are serious about this quest and it's always possible that the NHL will throw the owners a bone for saving the franchise and keeping it in Arizona.
Another interesting little nugget to come out of the Town Hall, the Coyotes will hold a Throwback Night next season. That will mean the return of the Peyote uniforms, one of the most notorious sweaters and logos in hockey history.
"It will happen next year," LeBlanc said. "We received approval from the League last week, so that will happen at least one game next year."
Between the name change, the return of the Peyote and the possibility of an outdoor game, next season is looking pretty exciting in the desert.