PHOTO: Jets handing out fighter pilot helmet to player of the game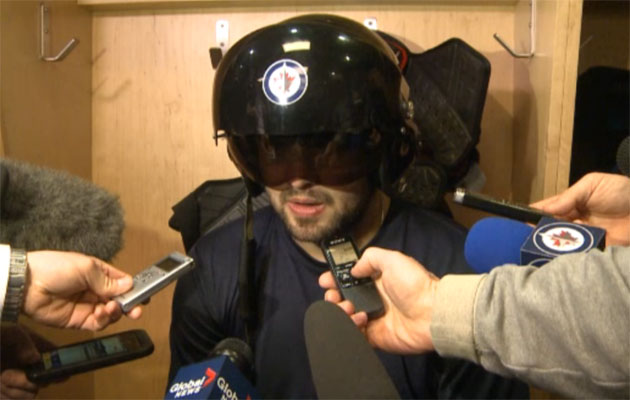 More NHL: Scores | Standings | League Leaders | Odds | Injuries | Power Rankings
We have seen title belts, the Broadway Hat, weenie hats, cowboy hats, hard hats and all sorts of other trinkets in the NHL that teams hand out to a player of the game. The Winnipeg Jets weren't in on this game with their own MVP token but on Friday they started their own tradition.
As the top player in Friday's win over the Canucks, Jets forward Devin Setoguchi was given the honor of being the first Jets player to wear their new fighter pilot helmet.
Nothing fits the Jets quite like a fighter pilot helmet so excellent job on the theme. It will also work pretty well for those players who might not love the media attention, they can just kind of hide behind the shield and pretend they are invisible.
The idea for this particular award came from veteran defenseman Mark Stuart. He proposed the idea and the Jets then sought help from the boss, team owner Mark Chipman. From the Winnipeg Free-Press:
"You've seen it all over and we wanted to get something original to our group, Winnipeg and our team, and Stewy came up with the idea to get the helmet, which I thought was great," Ladd reported. "We asked Chipper to see if he could help us out to find one, and sure enough he came through."

Ladd said the fighter-pilot helmet's arrival Friday was perfect timing.

"It was nice to finally have it and to implement it in our group and while we're winning some hockey games, too," Ladd said. "Hopefully we'll be able to keep passing it out.
Spirits are pretty high around the Jets right now, who have won eight of their 10 games under new coach Paul Maurice. Certainly they will hope the helmet keeps making its way around a happy locker room to really start off the new tradition in the right way.
Maurice says he didn't have anything to do with this initiative and that's probably the case but indirectly he might have had some influence. He explained that when he came to Winnipeg he asked what kind of traditions the team had that helped give them an identity, saying the answer he got was akin to "not much." Not long after, the Jets have a unique tradition in their dressing room.
Things like this can come across as small and sometimes plain silly and/or stupid but even the small things can have big impacts in the room. If guys are enjoying something as silly as passing around a helmet and it's improving the bonds as well as morale, then it's anything but insignificant.
S/t Puck Daddy