PHOTO: Ben Scrivens has a new Oilers mask with tribute to band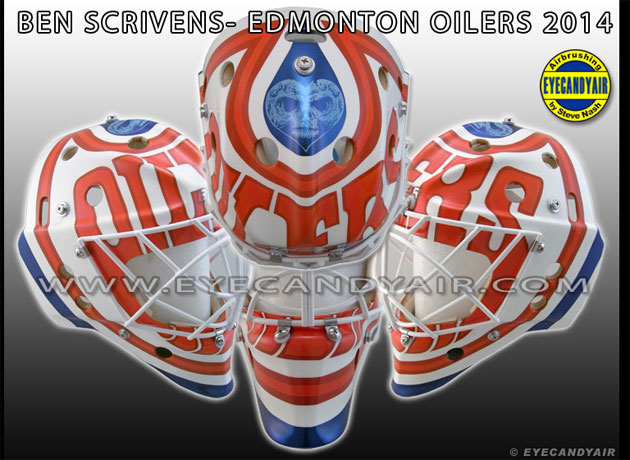 More NHL: Scores | Standings | League Leaders | Odds | Injuries | Power Rankings
After he was traded to the Edmonton Oilers from Los Angeles, Ben Scrivens didn't have the mask to fit in with his new team. So he continued to wear one of his masks from the Kings, which was pretty close to neutral.
But the Olympic break gave Scrivens a chance to get a new mask completed for the final few weeks of the season, one that fits right in with Edmonton's scheme.
The mask from Eye Candy Air and artist Steve Nash looks like a pretty straight forward Oilers design until you look at the details. The oil drop -- the name of the mask -- on the top of the design is more than just a blue drop going into the Oilers' classic logo, just in reverse colors.
In the drop is an ode to band Alexisonfire with their Heart Skull logo. Kind of creepy but pretty cool nonetheless. Members of the band certainly thought so as Dallas Green noted the difference from LA to Edmonton in the evolution of Scrivens' masks.
Amazing!!! @scrivens_30 went from Shakespeare to @aof_official #HEARTSKULL - beauty helmet!!! @EdmontonOilers pic.twitter.com/1nQmQYocOq

— Dallas Green (@cityandcolour) February 20, 2014
Scrivens talked about the mask and the nod to the band, saying he's friends with guitarist Wade MacNeil and is a fan of the band.