Report: San Francisco Giants, NHL talk about outdoor Sharks game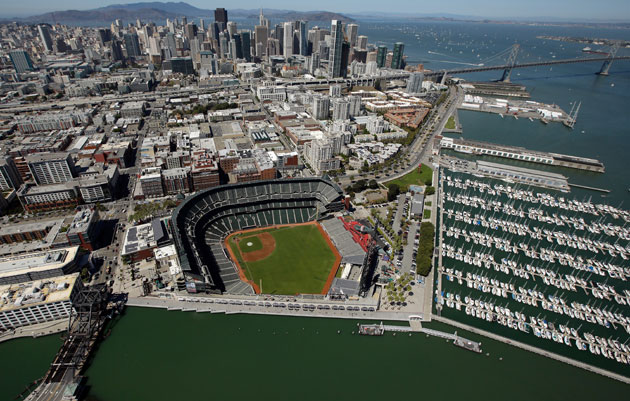 More NHL: Scores | Standings | League Leaders | Odds | Injuries | Power Rankings
Everybody wants in on outdoor hockey. That's one big reason why the NHL started the Stadium Series, to spread the love as every NHL team wants in on the fun.
That's made imagining different settings across the continent an exciting adventure for hockey fans. When this brainstorming happens, one location seems to always inevitably enter the conversation: San Francisco's AT&T Park.
The tenants of that beautiful ballpark on the San Francisco Bay, MLB's Giants, share the same dream. According to Giants Extra, conversations with the NHL have already taken place about the possibility of hosting a San Jose Sharks game.
The Giants have had preliminary discussions with the Sharks and the National Hockey League about bringing a game to the shores of McCovey Cove, team president and CEO Larry Baer said. In the coming months, NHL officials will tour AT&T Park, Levi's Stadium and Stanford Stadium to determine the best option in the Bay Area, in case the Sharks are awarded a Stadium Series game.

The Sharks are cautiously optimistic that they'll get a shot at outdoor hockey in 2015.

"Our ballpark would be perfect," Baer said. "A lot has to happen with the NHL and how these things get planned, but we'd love to do it. We think it would be a great partnership. We have a fair amount in common [with the Sharks] in the way we approach presenting our games. I think it would be an easy marriage and great for the fans."
First things first and that would be the NHL deciding to have an outdoor game in the Bay Area. Until then it's a moot point and all the NHL is doing is exploring options.
That said, AT&T Park seems like it would be the favorite if for no other reason than the setting right on the water. Stanford Stadium is a nice, new and intimate stadium up in Palo Alto and would probably provide great sight lines but doesn't have that extra ambience AT&T Park has.
The same goes for Levi's Stadium, which will open next season as the home of the 49ers right down the road from the Sharks' home at SAP Center. When considering that location the potential for the 49ers to play well into January is a consideration as well.
Already the list of cities that want in on a game is long and from the sounds of it, the NHL won't have as many outdoor games next season. Denver seems like a lock because of Coors Light and its role as title sponsor of the Stadium Series. Arizona has been vocal about its desire as well and we know the Winter Classic will be in the Washington DC area.