Report: More changes could come to draft lottery before 2015 draft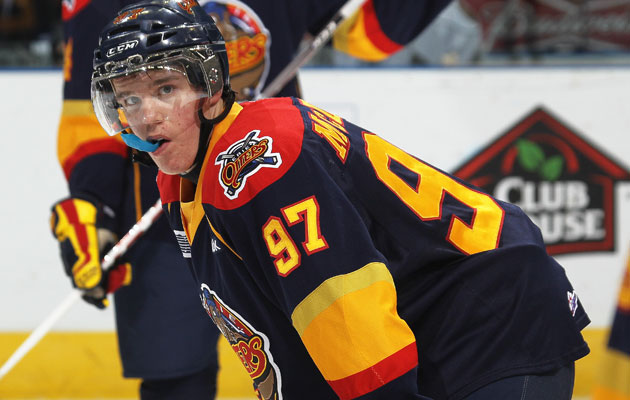 More NHL: Trades | Scores | Standings | League Leaders | Odds | Power Rankings
The NHL made a change to the draft lottery not long ago but more changes could be on the way.
For years any team could win the lottery but that meant a team could only move up four spots so only the worst five teams had a shot at the No. 1 pick. That was amended in the new CBA to say that whatever team wins the lottery gets to pick first. Still, the team with the worst record maintained the best odds to win.
However the league might not be settled on that being all the draft needs. There has been a lot of looking forward to the 2015 draft where two potential superstars await in Connor McDavid and Jack Eichel. It is raising some concern about an issue we don't hear a lot about in the NHL -- tanking. The prospect of getting one of those two guys is enticing so what's the incentive for a team not to finish with the worst record and be guaranteed to get one of them?
In his latest 30 Thoughts, Elliotte Friedman of the CBC says there could be some incentive to win added.
There are discussions about having the top three picks, or even the top five, selected this way. Although odds would continue to favor those teams with the fewest points, a decision to go in this direction would mean the worst team could potentially pick fourth -- or sixth.

Currently, the last-place squad gets a 25 per cent chance of snaring the top choice, with the best non-playoff finisher at 0.5 per cent. That may be different, too.
Friedman goes on to explain that the lottery odds could be weighted to the previous five seasons as well. The most recent season would have the greatest impact but it would be based on the past few seasons.
It's an interesting idea and would certainly make the lottery all that more entertaining with so much at stake. But for a lot of teams out there they aren't tanking, they're just bad. The Buffalo Sabres are going to have the worst record this season and in their case, they could really use the top pick to get better. The bottom five teams in their last 50 games (previous 10-game stretch for each team) are a combined are 19-26-5, which is about what you would expect for the five worst teams. It doesn't seem to be much of an issue now.
But again, it could become one with 2015's top spots so coveted. Of course, finishing with the worst record still gives your team the best odds to win the lottery and if you're not going to make the playoffs, there's still not a ton of incentive here to try and win.