At 10 wins and counting, Bruins proving again they're East's standard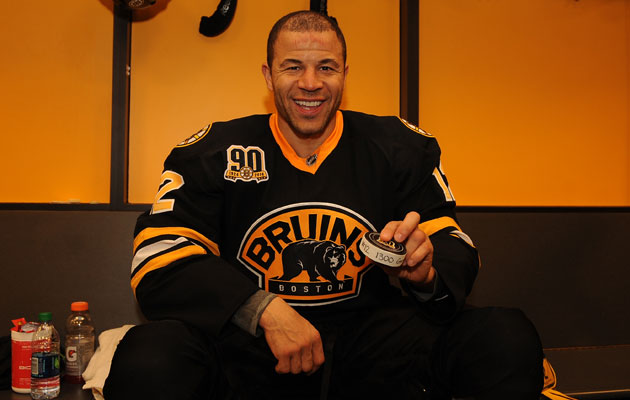 More NHL: Trades | Scores | Standings | League Leaders | Odds | Power Rankings
For most teams, trading away a 30-goal scorer or losing your second-best defenseman to a season-ending injury would mean a stepback season is in order. The Boston Bruins aren't most teams.
It took a while but the cream has risen to the crop in the Eastern Conference. No team in the NHL right now looks as good as the Bruins do; that tends to happen when you rattle off 10 consecutive wins (and counting) as Boston has done. For many franchises that kind of run is a once-in-a-blue-moon streak. The Bruins last did it in 2011-12. Again, the Boston Bruins aren't most teams.
It's almost scary how good this team is and remains. GM Peter Chiarelli did a lot of work to build the Bruins up from some dark years in Beantown, and he put in the foundation for a team to win for a long time. Only the salary cap could get in the way, which it did, intervening as it often does to great teams. A retooling was in order and how seamless it has been done is somewhat astonishing.
From all indications, the Bruins didn't want to see Nathan Horton go. Chiarelli made it clear that they were intent on re-signing him but Horton had other ideas. So that left a big question; who would the Bruins find to replace Horton on the top line right wing with David Krejci and Milan Lucic, a line that was so very good for them last postseason?
Enter Jarome Iginla. After failing to acquire him at the trade deadline last season, a move vetoed by Iginla himself, the two quickly reconciled and found a deal this summer. What a deal it has been. After a significant downward trend in Calgary, many wondered how much tread was left on those tires. His points with Pittsburgh were a positive sign but he still didn't look exceptional as a Penguin; often times he looked slow. That's why he signed an incentive-laden deal and the Bruins got themselves a Horton replacement for just $1.8 million against the cap.
While the incentives will catch up to the Bruins down the line, that has been a steal. Iginla has been on fire lately -- and it's probably not a terrible coincidence that the Bruins have been as well -- and now Iggy leads the Bruins with 26 goals this season. Say he's riding the coattails of Krejci and Lucic all you want, but 26 goals are 26 goals.
As good as Horton was for the Bruins, his season high in Boston for goals was 26. Iginla has 13 games to go to beat that. Not a bad replacement. Most teams would have a very tough time filling Horton's role at a severe discount. Well, the Boston Bruins aren't most teams.
Then there was dealing away Tyler Seguin and his vast potential. Seguin has blossomed in his first season in Dallas but it's not as if the Bruins got ripped off. The big name on the return was Loui Eriksson, and while he has been anything but bad, the more productive player has been Reilly Smith. Between Eriksson and Smith, they have 27 goals 47 assists -- keep in mind Eriksson has missed time with concussions.
We haven't even hit on one of the best overall players in the NHL in Patrice Bergeron and the fantastic season he's having yet again. On a team full of gaudy numbers in this department, Bergeron leads them all in plus-minus. The stat has plenty of warts but that he is so high and that no regular Bruin has a negative number is still telling. It says a lot about the team.
Statistically speaking, the Bruins are the East's best offense. The Bruins are also the East's top defense. You'd think there would be holes somewhere but there don't appear to be. Even the power play has improved this season -- now up to fifth in the conference.
Indeed, it's overall dominance for the Bruins right now, which is that much more impressive considering they are a defense that has been hobbled some by injuries, most notably to Dennis Seidenberg. Zdeno Chara gets the majority of the credit in Boston, and deservedly so, but one thing that has meant for years now is that it overshadowed Seidenberg's play.
No sweat. Even after parting with Andrew Ference, the Bruins have survived his loss just fine thanks to the young guys like Matt Bartkowski, Dougie Hamilton and Torey Krug. The sneaky trade for Andrej Meszaros is already looking pretty darn good as well. Chiarelli has that golden touch working.
Where Seidenberg's injury figured to burn the most was on the penalty kill. By now you have probably figured out that too has been pretty strong, ranking 10th in the league. Of course it helps to have a penalty killer like Tuukka Rask -- or even his backup! Chad Johnson has been very good in the No. 2 role -- Chara and Bergeron in addition to the Merlot Line guys like Gregory Campbell and Daniel Paille.
Put it all together and you have the hottest team in the sport right now, perhaps matched only by the St. Louis Blues. It has spawned some conversations about this idea of peaking too early, as if the Bruins shouldn't be trying to win every game they play. But consider this: Even if the Bruins aren't playing their absolute best hockey, they're still good enough to win the East once more.
The Eastern Conference is rife with flawed teams. Especially when comparing them to the West, it's easy to point to most teams in the East and say they aren't real Stanley Cup contenders. One last time with feeling: the Boston Bruins aren't most teams.