PHOTO: Jaroslav Halak's new Caps mask is heavy on eagles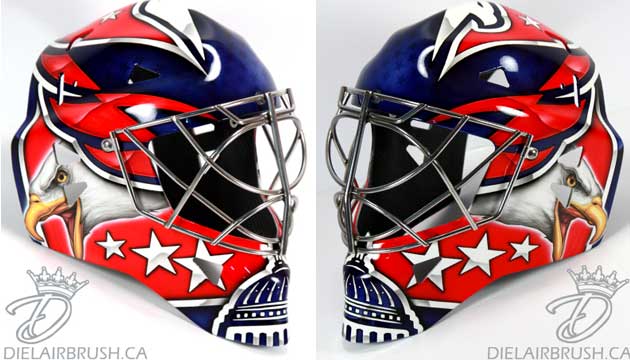 More NHL: Trades | Scores | Standings | League Leaders | Odds | Power Rankings
It's Ditch the White Helmet day for goalies dealt at the trade deadline. Ryan Miller has his new mask and the man he was traded for (who was then traded again) Jaroslav Halak has his new cage to wear with the Capitals.
As you'd expect from a goalie playing in the nation's capital, it's very patriotic and rather elegant. There's not much fanciness to the design, it's just clean and classic. The symmetrical mask has the Capitals' alternate eagle logo on top that stretches around to the sides. A neat little touch is in the blue on that top logo are stars in the background.
In a great American twist, it has bald eagles on either side as well. Because really, you can never have enough bald eagles on a mask.
The chin features three big stars on either side of the Capitol building. Really, a very American mask for a team in America's headquarters, if you will.
It's not all about the USA, though. On the back of the mask Halak has an ode to his home nation of Slovakia. Fortunately for him and the aesthetic look of the mask, Slovakia's national colors are the same as the USA (and the Capitals).
The mask was designed and created by Diel Airbrush.