PHOTO: Christian Ehrhoff took a puck to the ear and it wasn't pretty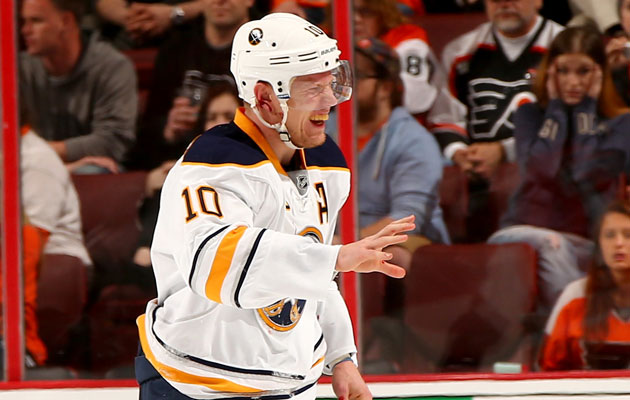 More NHL: Trades | Scores | Standings | League Leaders | Odds | Power Rankings
We all know it, hockey players are as though as they come but they just can't miss an opportunity to remind us whenever one presents itself.
The latest comes courtesy of Buffalo Sabres defenseman Christian Ehrhoff. Even with this season a total loss and the Sabres guaranteed to finish with the worst record in the league, Ehrhoff has shown no quit this season and as a result, he has a mangled ear.
What else would you expect when you get hit in the ear with a puck anyway? Maybe you wouldn't expect it to look like a Ginsu knife came in close contact to his lobe but you knew it wouldn't be pretty.
Still, Ehrhoff showed his ear ... off on Twitter with a little before and after 40 stitches look.
Consider this your WARNING, it's pretty gross.
So here's your chance to look away.
Don't scroll down any futher if you are getting ready to eat or do anything really.
There's still time!
......
OK, you asked for it. Here goes:
WARNING, graphic images! #pucktoear #about40stitches #toughdayattheoffice #greatjobdoc pic.twitter.com/lnroJFY8EG

— Christian Ehrhoff (@TheRealHoff10) April 7, 2014
GAH! We told you it was gross but Ehrhoff just had to share (and so did we).
Naturally the Ear Off jokes came flooding in considering ... well I imagine you can figure that one out.
Thankfully they had enough stitches to piece his ear back together because that's quite the gash. Certainly Mike Tyson must be proud of it.