Report: Tomas Hertl expected to return for playoffs, possibly before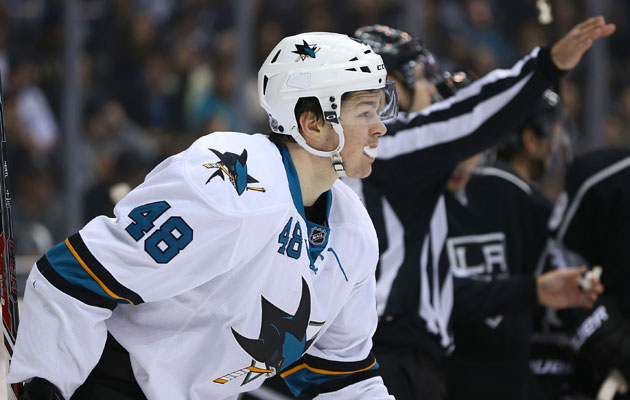 More NHL: Trades | Scores | Standings | League Leaders | Odds | Power Rankings
You remember Tomas Hertl, don't you? The Sharks rookie was taking the NHL by storm and was well on his way to winning the Calder Trophy before undergoing surgery on his knee and missing the majority of the season.
Well his season isn't done. In fact, it's likely about to get started again just in time for the playoffs.
Hertl has been skating for a while, rehabbing his knee and it appears that he might finally be ready to return to the Sharks, possibly even before the playoffs begin next week. From Kevin Kurz of CSN Bay Area:
The 20-year-old forward is expected to be ready in time for the Sharks' first playoff game next week against the Los Angeles Kings, according to a source, and pending medical approval.

Hertl, who has been skating with the team since Feb. 26, may even try to play in one of the Sharks' final two regular season games, should he be cleared in time. The Sharks host Colorado on Friday and visit Phoenix on Saturday to conclude the 82-game slate.
So this is a pretty big deal for the Sharks.
Leaving alone the fact that Hertl is a supremely talented player who can only add to their offensive attack, he allows the Sharks to get more balance on their lines. He was playing on the top line this season with Joe Thornton and Brent Burns prior to his injury but to make up for his loss, the Sharks had to shuffle things and Joe Pavelski moved up. That worked out well for Pavelski but overall it wasn't ideal for the Sharks lines as it had a trickle down to the other lines and weakened them a tad.
Assuming that Hertl can get up to speed in a hurry, his return in the playoffs would allow the Sharks to get back to the lines they want to run and that means Hertl returns right away to a prominent role. Though you can't exactly count on that when he's coming off a knee surgery, his presence in the lineup still only helps to make the Sharks a bigger threat in the West.
Hertl's injury, by the way, came against the Kings when Dustin Brown made knee-on-knee contact with Hertl that left the Sharks and their fans just a little angry. So as if this series needs any more drama to the storylines, that would do it.
In 35 games Hertl racked up 15 goals and 10 assists, including his famous four-goal game against the Rangers and his highlight-reel goal. His 15 goals still rank him sixth on the Sharks roster, one behind Tommy Wingels, despite missing months.