PHOTO: Which NHL teams each state and province are pulling for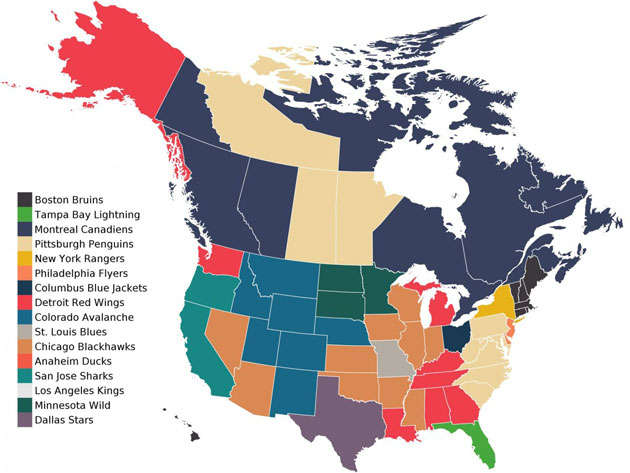 More NHL Playoffs: Schedule, TV listings | Expert Picks | Bracket | Scores | Odds
Unfortunately not every NHL team gets to enjoy the playoffs, which leaves a lot of areas without any natural rooting interest. Or in some cases like California, there are multiple teams to which fans could pledge their allegiance this postseason.
That all leads us to this very unscientific map of which states and provinces are rooting for which teams for the remainder of this hockey season from Facebook. It's a pretty simple formula; seeing which team has the most likes in the given areas.
One of the more interesting things here is the spread of support in Canada. Only one team from the country made it to the playoffs and it's a love'em or hate'em team in the Montreal Canadiens. It seems most of Canada is on the love'em, win-one-for-the-country side but Saskatechwan, Manitoba and the Northwest Territories are throwing their hopes behind the Pittsburgh Penguins. Presumably it's all because of Sidney Crosby?
Based on the amount of states they claimed, the Blackhawks are America's team with 10 states, led by Illinois of course, liking the reigning champs. The Red Wings are sort of the home for displaced fans with their smattering of support from Alaska to Georgia.
Otherwise it stays pretty geographical with the Blues, Stars, Lightning, Blue Jackets and Rangers all winning their home state and nothing more. Some teams like the Avalanche, Bruins and Penguins took large chunks of space in their natural areas too (with a bonus pickup of Hawaii for the Bruins).
Teams that didn't come out ahead anywhere? The Kings and Ducks, overrun by the Sharks in California and Oregon. Meanwhile the Flyers didn't earn the most likes in Pennsylvania thanks to the Penguins but did take New Jersey and Delaware, not too surprising given their proximity to both states.
There you have it, what areas like which teams. And as a note, Nevada is behind the Blackhawks which might or might not tell you something what the folks in Vegas really think.
S/t Business Insider