NHL Awards: Crosby, Getzlaf, Giroux finalists for Hart Trophy as MVP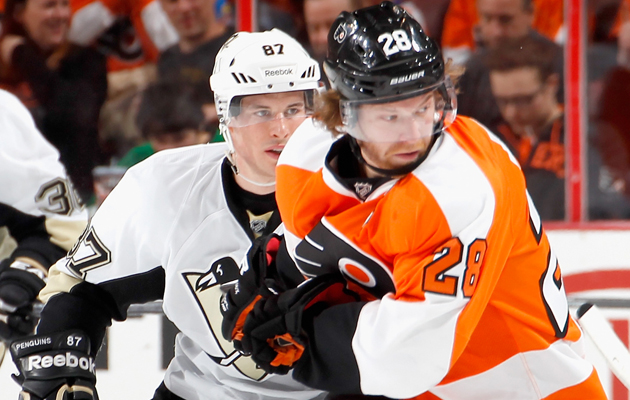 More Playoffs: Schedule, TV listings | Expert Picks | Bracket | Scores | Odds
The NHL unveiled the top three vote-getters for the Hart Trophy on Thursday, the award given to the NHL's Most Valuable Player.
Drumroll please ...
The finalists are Sidney Crosby of the Pittsburgh Penguins, Ryan Getzlaf of the Anaheim Ducks and Claude Giroux of the Philadelphia Flyers.
Crosby is a heavy favorite to win the second Hart Trophy of his career after another terrific season for the Penguins. He had 36 goals and a league-high 68 assists this season to run away with the Art Ross Trophy as the league's leading scorer. And, for the first time in what has felt like an eternity, Crosby was healthy all season long, playing in 80 games for the Penguins. In 30 of those games he had more than one point. Just as important to his candidacy is that he remained healthy this season while the players in Pittsburgh around him did not. He was doing a lot of the work for a Penguins team that ran away with their division as the Pens led the league in man games lost to injury.
Getzlaf was pretty much another lock to be a finalist. The Ducks captain had a terrific season as the Ducks went on to win a second straight Pacific Division/Conference title. With a career-high 31 goals, he was the closest to Crosby in the points race, finishing with 87 on the season. At one point this season he went 14 straight games with a point, the longest such streak in the NHL since 2011-12. He and Corey Perry worked together to produce more than the lion's share of the offense for Anaheim. Not to mention Getzlaf plays in all situations for the Ducks, killing penalties as well as on the power play and even strength. This is Getzlaf's first time as a finalist for the Hart.
Giroux, like his Flyers, had a very slow start to the season as he nor the team could score. The Flyers captain declared the team was going to make the playoffs after a 1-7-0 start and he made sure they did. Giroux took off, matching his career high with 28 goals and finishing one point behind Getzlaf for second in the NHL with 86 points. Not bad for a guy who didn't score a goal until his 16th game of the season and was left off Team Canada because of his slow start. In a sign indicative of his value, as Giroux went, so went the Flyers it seemed throughout the season. This is also the first time as a Hart finalist for Giroux.
The Hart Trophy will be handed out along with the rest of the awards at the NHL Awards Show on June 24th in Las Vegas. Alex Ovechkin won the award last season.