Report: Wayne Gretzky wants to be new president of Capitals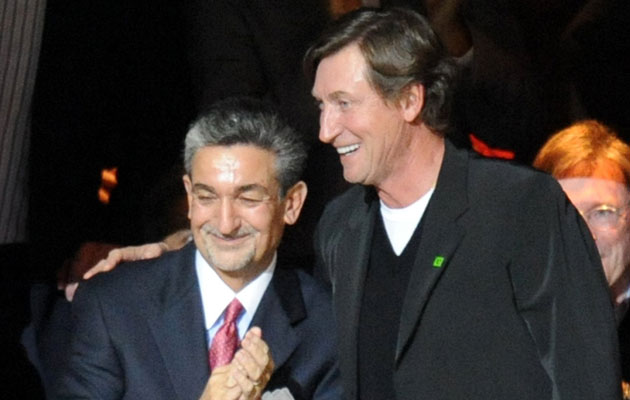 More NHL Playoffs: Schedule, TV listings | Expert Picks | Bracket | Scores | Odds
The Washington Capitals continue their search for a new general manager but the talk of getting a new president isn't exactly going away.
To be clear, the Capitals already have a team president. Dick Patrick has been in that role with the Capitals going back to the early 1980s and he is still in that role. But that's not stopping talk of the Great One, Wayne Gretzky, from possibly getting the job.
Gretzky is a friend to Capitals owner Ted Leonsis and he has made it known that he would like another chance now that the NHL's debt to Gretzky has been taken care of. He reportedly remains very interested in the job, even if the window might be passing.
From Chuck Gormley of CSN Washington:
A source close to Gretzky said Monday that the 53-year-old native of Brantford, Ontario very much wants to be president of the Capitals and would consider former Columbus general manager Doug MacLean as his general manager.

However, the source said Gretzky has not had more than a few casual conversations with the Capitals and believes that if they really wanted Gretzky they would have hired him by now.

It is entirely possible that Patrick is not prepared to surrender the duties he has had with the Capitals since 1982.
Obviously the big nugget in there is Gretzky's interest in the Capitals job for a role that is already filled but also of big note is seeing Doug MacLean's name pop up. The former GM of the Blue Jackets has also wanted to get back in the business and while his resume isn't perfect, he does at least have some experience.
The Caps have other candidates lined up for the GM role as well. Don Sweeney (Boston) and Paul Fenton (Nashville) have both been suggested as possible replacements for George McPhee and now that he's free, so has Ray Shero out of Pittsburgh.
Gretzky's track record as a player is of course incomparable but his mark as an NHL executive and/or coach is less than stellar. He had a very forgettable stint in Phoenix as the General Manager as well as head coach but as we've seen, the role of president is a bit different, one that former players are being placed into at warp speed across the league.
Will this happen? Who's to say, though it does seem unlikely. But the idea of Gretzky overseeing an organization with a supreme talent like Alex Ovechkin is certainly intriguing.