Report: Jean-Sebastien Giguere 'ready to call it a career'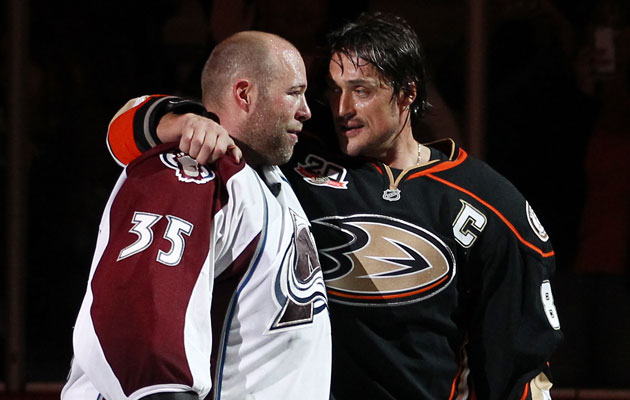 More NHL Playoffs: Schedule, TV listings | Expert Picks | Bracket | Scores | Odds
If you remember the final regular-season game between the Colorado Avalanche and Anaheim Ducks, you probably left with a distinct impression that Jean-Sebastien Giguere was soon to ride off into the retirement sunset with his old pal Teemu Selanne.
It seems even more likely to happen now that Giguere has had a little bit of time to think it over some more.
In my #jdm story.Talked to JS Giguère who's ready to call it a career. He wants to speak with his agent and the PA before making it official

— Renaud Lavoie (@renlavoietva) May 26, 2014
This news won't catch anybody off guard, especially the Avalanche. They seemed to prepare for life after Jiggy when they acquired Reto Berra from the Flames at the trade deadline and then signed him to an extension even though he spent most of the final weeks of the season watching from the press box.
Giguere, who turned 37 earlier this month, has been serving as the backup goalie for the last few years of his career. This season he played 22 games behind Vezina finalist Semyon Varlamov, going 11-6-1 with a .913 save percentage and 2.62 GAA.
Certainly there isn't a whole lot left or Giguere to do in the NHL. He is already a Stanley Cup champion, winning it with the Ducks in 2007 and he won the Conn Smythe in 2003 even though the Ducks lost in the Stanley Cup Final.
If Giguere does officially go through with retirement, his exit will mean the official end of the Hartford Whalers in the NHL. He is the last remaining Whaler, drafted 13th overall by Hartford in 1995 and he played eight games in 1996-97. Long live Brass Bonanza.