2014 Olympics: USA goalie list at six, includes Tim Thomas, Ben Bishop
The announcement of the Olympic rosters is a little more than a month away and at this point Team USA has six goalies on the radar including Ben Bishop and Tim Thomas.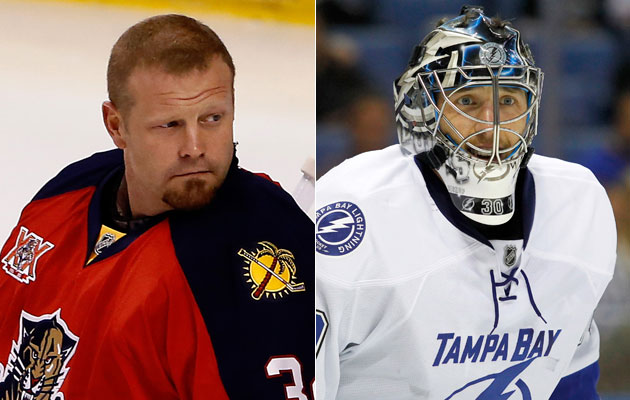 More NHL: Scores | Standings | League Leaders | Odds | Injuries | Power Rankings
When the Hockey USA held an Olympic Orientation Camp before the NHL season just outside of Washington DC, a total of 48 players were invited as the part of the pool of potential players. That pool consisted of six goaltenders while only three can go.
The theme at the orientation camp was that the goaltenders playing the best hockey would go and that would be decided in the opening few months of the season. As Thanksgiving approaches, there are still six goaltenders in the mix for the US Olympic team, they just aren't the same six.
Predators GM David Poile, who is also in charge of running Team USA for the 2014 Games, has been keeping a keen eye on all the games with his staff that includes Ray Shero, Brian Burke, coach Dan Bylsma and more. According to Jeff Z. Klein of the New York Times, the group has identified the current six goaltenders that will eventually be whittled down to three by New Year's and the Winter Classic when the roster is announced.
They are: Ryan Miller ( Buffalo Sabres ), Jimmy Howard ( Detroit Red Wings ), Cory Schneider ( New Jersey Devils ), Ben Bishop ( Tampa Bay Lightning ), Jonathan Quick ( Los Angeles Kings ) and Tim Thomas ( Florida Panthers ).
New to the list, or at least from the preseason orientation camp, are Bishop and Thomas. Bishop has been having a strong season for the Lightning as their No. 1 goaltender and has absolutely played his way into consideration at least. Working against Bishop is the fact that he played for Team USA in the World Championships last summer and struggled big time, the playing time being turned over to Gibson who led the USA to a rare Worlds medal.
Thomas meanwhile has been solid for a poor Panthers team. His .911 save percentage doesn't jump out at you but given the team in front of him, it's not that bad at all, especially given how one clunker of a game in St. Louis early in the season drags down the numbers.
If those two are in that means two are out. The names missing are Craig Anderson of the Ottawa Senators and young John Gibson, the Ducks prospect who has played so well for Hockey USA every chance he's had. It's not much of a surprise that Gibson seems out of the mix, he's not in the NHL and while the third goalie is unlikely to play at all, it would still behoove the team organizers to get a guy they would feel comfortable with playing.
As for Anderson, well, his great short season is in the rear-view mirror now. He has a .900 save percentage and 3.31 GAA in Ottawa while his fellow netminder Robin Lehner has put up much better numbers behind the same team with a .940 save percentage and 2.33 GAA. Considering the American goaltending field hasn't been stellar this season, it's more a situation of Anderson playing his way out of contention than the others leaving him in the dust.
At this point Miller remains a strong favorite to land a spot on the team and despite his groin injury and struggles, Quick will remain a serious candidate too. From the rest it's not extremely clear who should be in, perhaps Schneider has a slight edge with his .925 save percentage this season but there are a few names who have played well enough to get noticed and honestly it's not outlandish to think of one, Thomas, making the team. It's probably unlikely to happen but it wouldn't be a sign of everything being wrong for the Americans, especially if we're just talking about the third goaltender spot.
Show Comments
Hide Comments
For first time since 2005-06, Edmonton is headed for a Stanley Cup run

With loss to Hurricanes, Detroit eliminated from postseason contention for first time since...

Flames-Capitals would pit underdogs vs. title favorites, while Pens-Oilers would showcase elite...
The Ducks are outshining their Pacific competition, while the Habs and Predators offer lots...

Big losses by the Sharks and Blackhawks have Washington back on top

On day he signs entry-level deal with Canucks, Boeser scores Vancouver's third goal in 4-2...