2015 Winter Classic: Caps owner Ted Leonsis finally gets his game
For years he wanted it and now he got it; Capitals owner Ted Leonsis and the Caps are getting the Winter Classic. He couldn't be happier.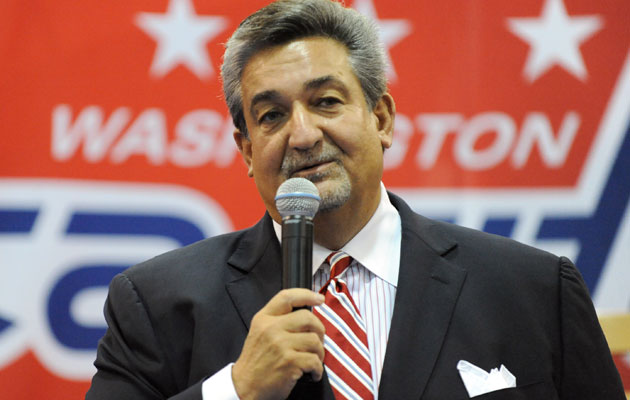 More NHL offseason: Rumors | Top 50 Free Agents | Buyout Tracker | Trades | Transactions
If you think the Winter Classic is losing its steam and prestige, just spend a few minutes with Washington Capitals owner Ted Leonsis. He looked as happy as a good on Christmas who just found the Red Ryder BB Gun with his name on it under the tree.
Despite the fact that the announcement of the game was anticlimactic as everybody and their brother knew the Capitals were going to host the game, Leonsis was no less enthused. For him this game coming to DC in more than a year's time is a culmination of a lot of work and dreams.
Make no mistake, Leonsis knew he wanted this to happen and wasn't going to stop until it did.
"I wanted a Winter Classic and I worked real hard on anything the league asked me to do," Leonsis said. "Now what I start to worry about is if it's cold enough. I've seen what can happen city by city when you play outdoors so I just hope that we can get a cold spell and maybe even some snow."
For Leonsis he's known for years he wanted this event, well before it became apparent this was a cash cow for the league and the teams playing in it. All it took was a couple minutes on New Year's Day in 2008.
"I am being sincere when I say that I turned on the first Winter Classic and it was snowing, my whole family was on the couch watching," Leonsis recounted. "I said 'I got goosebumps, this is incredible!' I think we had a game later that day so I left and ran into the building. All the players were watching the game. It was just an unbelievable event and I just loved it. It's all the guys were talking about. I'm not exaggerating, literally five minutes into the game I said 'this is the greatest thing I've seen, what do I have to do to get one in Washington?'"
Apparently part of the answer was to pester Gary Bettman until it happened.
"Gary had made a commitment to me like two years ago, right after the event that we played in in Pittsburgh, in 2011," Leonsis explained. "So right after the Pittsburgh game he said 'thank you, you guys really cooperate in every way and we were amazed at the fan turnout that you had.' It's not like I was promoting our fans to go to Pittsburgh, that was a very organic set of circumstances. He said 'OK, we'll give you a game,' and I said 'OK when!?'"
We have the answer; next season. And now, at this point it doesn't matter who it is against or where, so long as it's around the Beltway, the Capitals couldn't be happier.
But make no mistake, it was always about the Winter Classic, a plain old outdoor game as the NHL will be introducing this season with the Stadium Series wouldn't do.
"It's always been the Winter Classic," GM George McPhee explained. "Ted did a really good job saying this is Pittsburgh's second, what about us? It probably would have been this year but for the lockout. The whole point was to get the Winter Classic here and he did."
A dream come true would be to have the game on the National Mall but we all know that realistically it just can't happen. While the league will begin working to finalize the other details of who and where, the Caps and Leonsis will be busy dreaming of the day the NHL's biggest regular-season game comes to this city.
"As things go there haven't been that many cities that have hosted a Winter Classic and I think it's a nice testament to what we're building here," Leonsis said with a smile, one that likely won't go away anytime soon.
HBO is welcome
The Capitals have had the whole Winter Classic experience before, not only playing in the game but letting the HBO camera crews behind the closed doors for 24/7. If that relationship continues long enough for the 2015 Winter Classic, the Capitals would love to have it back.
"I was really comfortable with it from the beginning because I had seen other things HBO had done like what they did with the [New York] Jets and their training camp," McPhee said. "I enjoyed watching it as a sports fan. I thought it would create great insight for our fans. I didn't find it intrusive and I don't think the players did. You get used to it in a hurry. I thought it went really well and people really enjoyed it. Yes [I'd be willing to do it again]."
Leonsis pretty much echoed that sentiment, saying if it's good for the league (which it unequivocally is) then it's good for him.
There have been some questions in the past whether HBO would continue to run the series so that will remain in the air but let's hope so. For some that has become the best part of the Winter Classic, it makes for some really excellent television.
Show Comments
Hide Comments
Series schedules, results and updates from the second round of the Stanley Cup race

Nashville had big-name fans in the house for another win over St. Louis, and Anaheim scored...

New Jersey claims No. 1 draft pick after having an 8.5 percent chance of earning the top s...
Ottawa takes a 2-0 lead over New York, and Pittsburgh does the same against Washington

St. Louis connected on one of five power plays to tie the series while Anaheim loses again...

Ottawa's defense came up big in Game 1 to beat New York, and the Penguins beat the Capitals...