A bitter end to an otherwise promising season in Detroit
The Detroit Red Wings had a disappointing end to their season losing in Game 7, but the 2013 campaign was hardly a disappointment.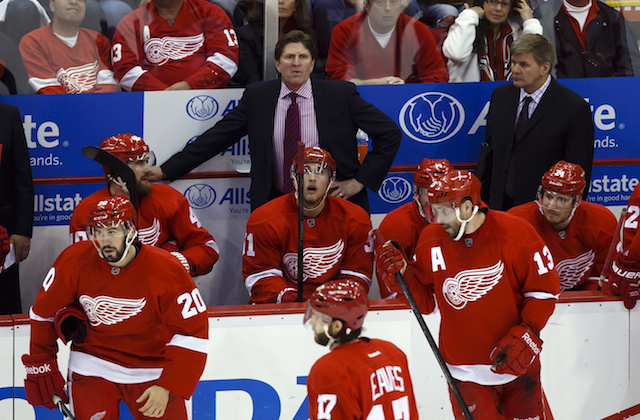 More NHL Playoffs: Scores | TV Schedule | Expert Picks | Odds | Mock Draft | Rumors
The Detroit Red Wings are used to playing for the Stanley Cup.
In a normal year, losing in the second round in a Game 7 to their oldest rival -- after letting a 3-1 series lead slip away, including one potential clinching game where they actually had the lead in the third period -- probably wouldn't be viewed as an acceptable result.
But this wasn't really a normal year, and this probably wasn't your normal Red Wings team.
This was a team in transition going through a rebuilding year with expectations lower than they've been in probably 15 or 20 years. The defense continued to go through drastic changes as future Hall of Famer Nicklas Lidstrom retired, and younger players were phased in throughout the lineup and given bigger roles.
When the season began, nobody really knew what to expect from this team. That included their own general manager, Ken Holland, as he wondered whether or not this team could even make the playoffs.
In the end, they not only made the playoffs to keep their incredible streak of 22 straight postseason appearances alive, they knocked off the No. 2 seed Anaheim Ducks and took the best team in hockey during the regular season to overtime of a Game 7.
All things considered, that's a pretty impressive season, and it might have been the best coaching job Mike Babcock has ever done at the NHL level. And that's a guy that has coached in three Stanley Cup Finals, winning one, so that's not exactly a small claim.
A lot of encouraging things happened for the Red Wings this season.
Jimmy Howard continued to prove that he's one of the NHL's top goaltenders, and now that he's signed to a long-term contract extension, the future of the position in Detroit is in solid hands. Considering that goaltending was usually a question mark in Detroit in the years leading up to his debut that's quite a shift for the Red Wings team structure.
Young players like Gustav Nyquist, Damien Brunner, Jakub Kindl, Tomas Tatar, and Danny Dekeyser started to establish themselves at the NHL level. Dekeyser was particularly encouraging, especially given the current makeup of the defense in Detroit, during his time with the Red Wings at the end of the regular season and in the playoffs before his postseason came to a premature end against Anaheim due to injury.
Veterans Niklas Kronwall and Jonathan Ericsson stepped up and created a very formidable top pairing. Kronwall in particular had a great year for the Red Wings, taking over as their tough-minute, No. 1 defenseman that was given the responsibility of going up against other team's top players. Despite the difficult matchups he was still a guy that helped control play and put up some of the best offensive numbers of his career.
Pavel Datsyuk and Henrik Zetterberg were still playing at an elite level all season, and as long as they're around (along with Howard) to keep driving play in the right direction (the Red Wings were still one of the best possession teams in the NHL this season, even with a weaker defense and so many young players getting playing time) they're going to have a chance.
Still, there remains some work for Holland and the front office to do this offseason. Valtteri Filppula, and Dan Cleary are all eligible for unrestricted free agency, while Nyquist, Kindl, and Brendan Smith are all due for raises as restricted free agents, while some additional depth on the blue line has to be addressed in some way, whether it be through free agency or trade.
The Wings enter the offseason $11 million below the salary cap.
Every year we hear about the Red Wings, their age, and the possibility that maybe their window is starting to close and a rebuilding year is on the way.
Well, this was the rebuilding year. And they still found themselves one win, and perhaps even one shot, away from reaching the Western Conference finals. Pretty amazing when you think about.
That should still be considered a successful season in Detroit, even with the disappointing way it ended.
Show Comments
Hide Comments
Nashville had big-name fans in the house for another win over St. Louis

Series schedules, results and updates from the second round of the Stanley Cup race

New Jersey claims No. 1 draft pick after having an 8.5 percent chance of earning the top s...
Ottawa takes a 2-0 lead over New York, and Pittsburgh does the same against Washington

St. Louis connected on one of five power plays to tie the series while Anaheim loses again...

Ottawa's defense came up big in Game 1 to beat New York, and the Penguins beat the Capitals...