AEG denies report that Kings could be up for sale
Kings ownership group AEG emphatically denied a report on Thursday that the NHL team could be up for sale.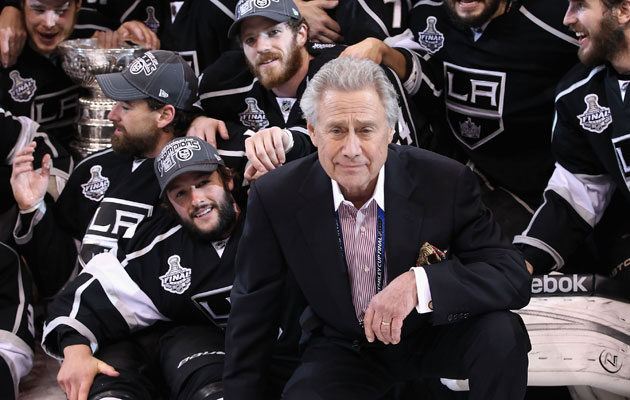 More NHL Playoffs: Schedule, TV listings | Expert Picks | Bracket | Scores | Odds
There has never been a time quite like this for the Los Angeles Kings. Born in 1967, the team went years without a title before winning it all in 2012. Now they are three wins away from winning the Stanley Cup for a second time in three seasons.
And on Thursday it was reported that the team could be up for sale..
According to Josh Kosman of the New York Post, Kings controlling company head, AEG boss Philip Anshutz, is contemplating a sale of the the franchise.
But on Thursday, AEG President and CEO Dan Beckerman emphatically denied the report.
"The unsubstantiated rumors printed in the New York Post earlier today about the potential sale of the Los Angeles Kings are false. So I'm clear, the Los Angeles Kings are not for sale, and there are no plans to sell the franchise today, tomorrow or anytime in the future.  These rumors were started by anonymous sources seeking to create chaos and mischief.  We remain solely focused on one goal, winning the Stanley Cup, and we will not be distracted by such irresponsible reports."
So let's just nip that one in the bud.
Even though it won't happen, it would be very interesting to see what the team could fetch if it were to go up for sale, especially if they win another Stanley Cup. It was just on Wednesday night before Game 1 that Gary Bettman noted how the sale of another Staples Center tenant, the LA Clippers for $2 billion, could impact the valuation process greatly.
"It went for $2 billion. Whether or not it means franchises in the NBA or any other sport are proportionately impacted, I'm not so sure to the dollar. But if the Clippers are worth $2 billion, we have plenty of franchises that are worth that if not more."
Now the Kings wouldn't likely be considered one of those teams -- think Toronto, Montreal, New York, Chicago, Boston -- but likely the NBA sale in the works would have an impact on the cost of the Kings -- and any other NHL franchise -- in a positive way.
Certainly the Kings would be more attractive now than ever, which also makes sense as to why AEG wouldn't want to part with the team. Not only are they winning on the ice but the excitement around the team is growing in LA. The ratings from Game 1 of the 2014 Stanley Cup Final in LA were substantially higher than they were for Game 1 of the 2012 Final, a clear sign interest is only increasing.
Remember that in 2012, Anshutz tried to sell AEG as a whole (thus including the Kings) but didn't go through with any deal.
Show Comments
Hide Comments
Our Latest Stories
Canada and Europe will meet for the second time in the tournament, this time with everything...

The Bruins have their high-scoring, opponent-agitating winger locked up long term now

The team no one gave a chance is moving on to the World Cup's championships series
Defense prospect Patrick Sieloff drew the ire of his teammates after his hit on MacArthur

Canada moves on to the championship series to play for the World Cup

The 22-year-old blueliner is looking for a fresh start somewhere else