After 895 games, Brad Richards gets first hat trick in Rangers rout
Brad Richards scored three times on Friday night for the Rangers. If you can believe it, it was the first hat trick of his career.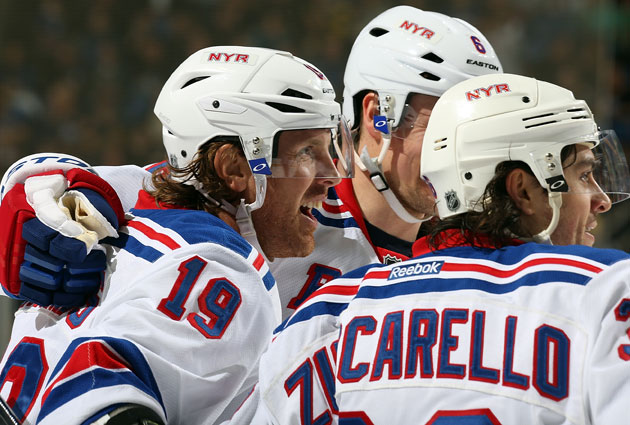 More NHL: Scores | Standings | Odds | Fight-O-Meter | League Leaders | Rumors
Brad Richards had played 895 career games before Friday night. He won the Conn Smythe Trophy in his career. He had 252 career goals. Yet he had never had a hat trick.
That was until Friday night.
The Rangers forward, who had only seven goals coming into the night in what can be described as a disappointing campaign, took advantage of a goalfest in Buffalo against the Sabres. He got on the board in the first period when a pass in front deflected off Christian Ehrhoff's skate and in. He scored again in the second period and then finished off his trifecta in the third to give the Rangers a comfortable 8-3 lead.
The Rangers won 8-4 to further cement their place inside the playoff picture and officially end the hopes of the Sabres as well as the Flyers. Talk about a sweet win for the Blueshirts.
It's crazy that he had never had three in one game before, but it's true. On 22 occassions, Richards had scored twice but never thrice. He has always been much more of a playmaker, but it's not like he can't score. Two seasons ago he had 28 goals with Dallas.
It was a long time in his career without the thrill but it wasn't unprecedented. Shane Doan ended his long run of hat-trick futility early this season. The Coyotes captain joined Scott Mellenby as the only players to reach the 300-goal plateau without a hat trick.
Now if the Rangers can get this effort to roll over into more production, the Rangers will be talking. His lack of production this season has been pointed to as a culprit for the team's struggles, so much so to the point that his name has been talked about a lot as a amnesty buyout candidate this summer.
On this night that all is forgotten, even if the Rangers were running the Sabres out of Buffalo -- and the playoff race.
Show Comments
Hide Comments
For first time since 2005-06, Edmonton is headed for a Stanley Cup run

With loss to Hurricanes, Detroit eliminated from postseason contention for first time since...

Flames-Capitals would pit underdogs vs. title favorites, while Pens-Oilers would showcase elite...
The Ducks are outshining their Pacific competition, while the Habs and Predators offer lots...

Big losses by the Sharks and Blackhawks have Washington back on top

On day he signs entry-level deal with Canucks, Boeser scores Vancouver's third goal in 4-2...