Alex Chiasson shaken by Rich Peverley incident, out for Tuesday
Stars forward Alex Chiasson was taken to the hospital on Monday night after being shaken up by Rich Peverley's collapse on the bench. He was released by won't play Tuesday.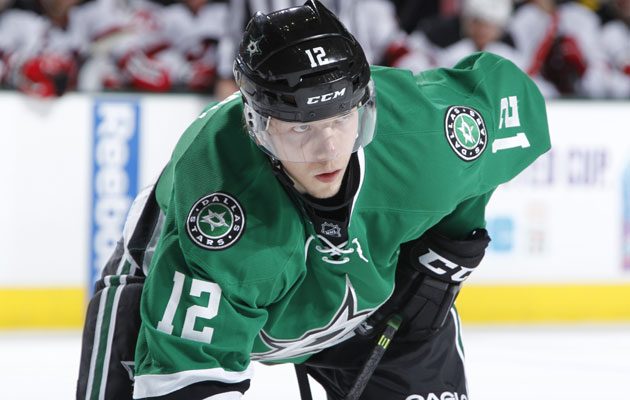 More NHL: Trades | Scores | Standings | League Leaders | Odds  | Power Rankings
Rich Peverley won't be the only member of the Dallas Stars not in the lineup on Tuesday night in St. Louis after Monday's scary situation, Alex Chiasson won't play either.
Seeing Peverley collapse on the bench and be immediately rushed down the tunnel was a frightening sight. The Stars bench began frantically appealing for help when Peverley went down and thanks to the medical staff on hand, they got it. They were able to treat Peverley successfully for a "cardiac event."
It didn't take long for positive reports on Peverley's status to circulate but still it couldn't help but shake the rookie forward Chiasson to the core. It affected him so much that he too was taken to the hospital.
Per Mike Heika of the Dallas Morning News, Chiasson was released not long after but the team decided it was best if he didn't play. He didn't join the team on the trip to St. Louis.
It's just another reminder how tight-knit the hockey community is and how tight all these players are. Chiasson and the Stars -- and Blue Jackets -- were most affected but hockey players and teams all over felt the seriousness.
"@_Happy_Gilmore: The @NHL is a brotherhood.... pic.twitter.com/7allIX5CQq" very true

— Mike Modano (@9modano) March 11, 2014
As a result the Stars recalled colton Scevious and Chris Mueller from the AHL to have enough bodies for a tough and critical game against the Blues.
Show Comments
Hide Comments
Our Latest Stories
Bovada sets the number for trades; will Kevin Shattenkirk and Gabriel Landeskog be among t...

Another pre-deadline trade goes down, and this time it's for some late-season offense

Three of the last 10 Stanley Cup winners welcomed new coaches during their championship se...
Pittsburgh gets the help it desperately needs, while Carolina keeps stockpiling future tal...

Aramark, Heinz Field's food provider, is featuring a face-off of city-inspired dishes for Saturday's...

Once the most favored potential Stanley Cup winner, Chicago has fallen behind Washington,...